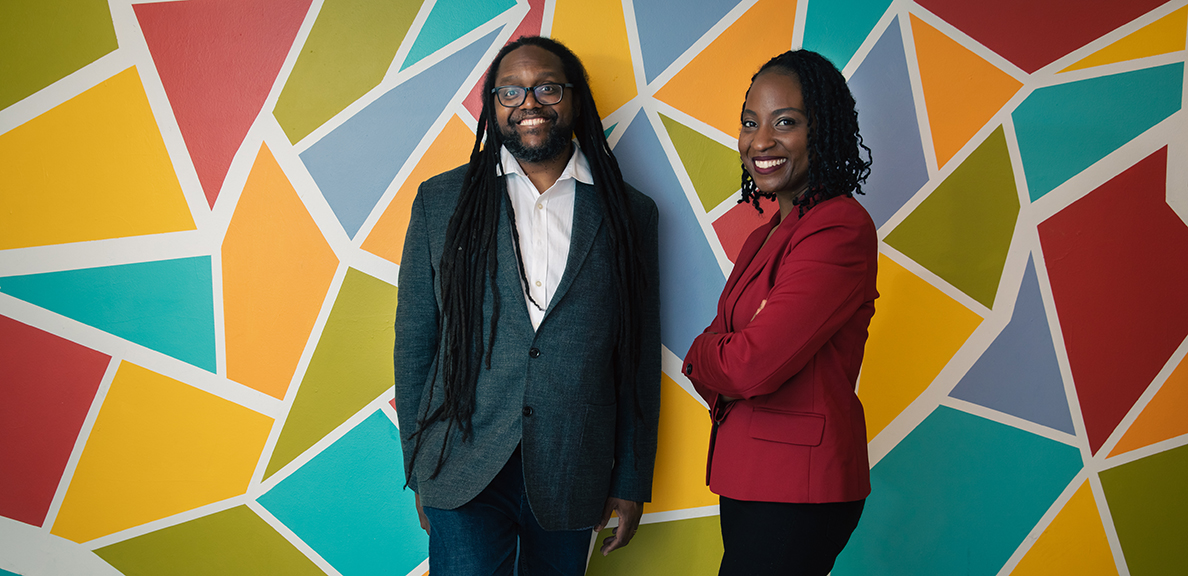 Black Excellence Project Shares Alumni Success Stories
BY Stephanie Hammon
PHOTOGRAPHY BY Garvin Tso
May 26, 2022
Want to be inspired by stories of success and perseverance from Black Cal State East Bay graduates? Look no further than the Black Excellence Project. Though many face barriers that hinder their college completion, these students have reached the finish line. The Black Excellence Project highlights how they did it, using social media and film to bring attention to the institutional best practices that are crucial to Black student success. 
Cal State East Bay magazine sat down with the project's co-creators, Ethnic Studies Lecturer Steven Cleveland and Assistant Director Sarah Aubert, to learn more about the inspiration behind The Black Excellence Project and the impact it's making. 
CSUEB: How did the project come about? What inspired it?
Sarah Aubert: We participated in the CSU's Student Success Analytics Certificate Program which  gave us a chance to dig deep into student data surrounding equity gaps and graduation rates for the campus. When we looked at graduation rates for black freshmen, we saw that less than 10 percent were graduating in four years, which is obviously not acceptable. The numbers were pretty dismal when it came to two-year transfer rates for black students, too. So between that and our own connection to the data, having been first generation Black college students, we knew there needed to be a different approach to this. Oftentimes, we take a deficit-based approach when we're looking at data and we do need to dig out the issues and see why students aren't graduating. But it's not often that we say, what did work? Who did graduate and what helped them to get there? That's how the Black Excellence Project was birthed.
CSUEB: What makes the project unique?
Steven Cleveland:  In their pilot at Cal State East Bay, The Black Excellence Project amplifies Black student voices via social media, which is where the students are. We're delivering this project where our students are at and we're not focusing on the deficits — we're reaching out and highlighting the stories of folks who have succeeded despite the barriers that come with being black and on campus. 
CSUEB: What do you hope to accomplish through the project?
SA: I think we could agree that there are three main goals that we are trying to achieve. First and foremost, just to affirm and amplify Black student voices, particularly our Black graduates. A lot of times when Black students graduate it's despite the obstacles that they face on campus and then they have no further contact with the campus. We wanted to make that connection and to let them know that we're proud of them and to hear what worked for them. The next objective was to identify the campus best practices that helped them to reach their goal — what the campus is doing right, identifying those different markers and seeing how we can enhance those or how we can stop doing things that aren't working. And lastly, just going beyond the performative and providing a tangible resource that can be used to build a sustainable community of growth and support for Black students that will ultimately lead to successful college completion.
CSUEB: What impact has it made so far?
SC: We've been able to center 30 Black graduate stories over the course of the campaign. We've been invited to several conferences, including NCORE (the National Conference on Race and Ethnicity) and WASC ARC, to share the best practices that we've learned through this experience from our students. We also have cultivated an active Instagram following that is amplifying these student voices. 
What challenges have you faced? 
SA: What's made it challenging is that it hadn't been done before so there were not just the administrative process barriers to get through, but we had to build trust with the students. We had to make sure that they know that this is for them and about them and that we are supporting them — that there are no hidden motives here. 
What is the future of the project? 
SC:
We are talking with other CSU campuses about launching Black Excellence Projects in fall 2022. At East Bay, we are looking to start the implementation phase in the fall. Our intention is to ensure that that work goes beyond performative, which is a big deal to us, we will look at ways to feature our graduate cohorts by inviting them to talk with current students, to appear on panels and asking them to be a part of university think tanks to offer their perspective on a number of student-related problems. Ultimately, we are working to facilitate the building of community around current students, because the most compelling truth that emerged from these stories is that community is the key to students' success.  
---
EDWARD HILL
Liberal Studies  '21
Hometown: Berkeley, CA
"There was an African American woman meeting with the Sankofa (Scholars Program) folks and when she came to me, she referred to me as 'Dr. Hill.' When she said that I was like, 'Wait a minute, that has a ring to it. I could be a doctor. I could pursue a PhD.' That ignited something in me and made me reframe the way I saw myself."
GRACIOUS HODGES
Criminal Justice '20
Hometown: Vallejo, CA
"In certain classroom settings, you could be one of maybe three African American people in the class and it kind of messes with your head a little. There's this imposter syndrome effect. Do I really deserve to be here? Do I know enough to maintain? It causes all these thoughts to go through your mind. For me it made me really have to dig deep within myself to say, 'You know what, I do deserve to be here.'"
STEPHANIE PARRISH
Environmental Science '21
Hometown: San Jose, CA
"One of the biggest motivators for me to continue to graduate was my family. For none of them to have a degree or make it as far as I did, they really supported me. To have my brother's little girls look at me and say 'Auntie, wow, you're a scientist!' just really hit me hard that it's not [just] about me, it's about my family and the people who are watching me be successful."
MARLO "THE MOTIVATOR" SPOONER
Sociology '21
Hometown: Oakland, CA
"One thing I think we can work on is better assisting those who have been previously incarcerated. These individuals, like myself, come home with nothing. People don't want to give you an opportunity and you can't get certain grants because of your criminal history. When I tried to apply for financial assistance, I noticed we didn't have any grants here for that population. We had a lot of grants for different populations but none for those who have been previously incarcerated."
(Alumni photos courtesy Anaiyah Thomas)