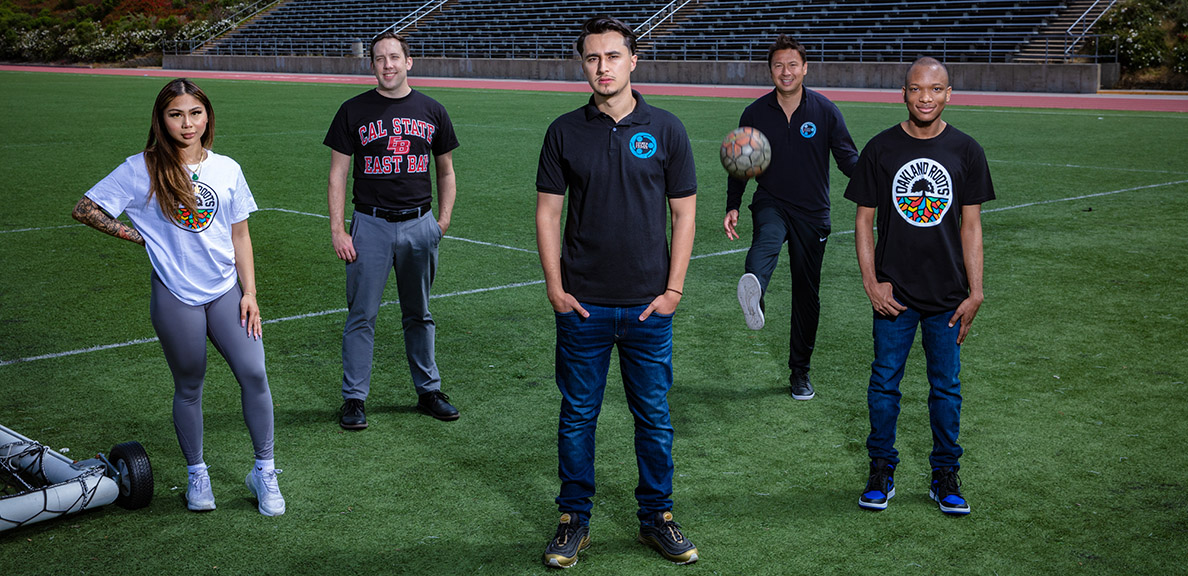 CSUEB Provides Assist to Oakland Roots' Sustainability Goal
BY Cal State East Bay
PHOTOGRAPHY BY Garvin Tso
May 11, 2022
Oakland Roots Sports Club is tackling climate change head-on — becoming carbon-neutral as one of the first steps on its journey to sustainability.
This organizational effort goes beyond helping individuals score goals to achieve victory on the field, and instead reflects a collective purpose and commitment—a long-term strategy with a goal to lessen the region's carbon footprint.
"Individual changes in behavior are not going to change our current trajectory in terms of greenhouse gas emissions, it is collective actions like the one the Roots are taking that will secure lasting effects," said Michael Schmeltz, Cal State East Bay assistant professor of public health. 
Schmeltz and Matthew Atencio, professor of kinesiology, have teamed up to assist the Roots. 
"The potential here is that sports can be used to benefit society and the Roots' vision to become climate positive in 2022 also links with our campus in terms of its sustainability focus," said Atencio, who is also the co-director of the Center for Sport and Social Justice. 
Students, faculty and alumni from kinesiology and public health are leading the charge to help the Roots get climate positive — searching for and analyzing case studies of where community-focused, grassroots and indigenous practices are being implemented to reduce carbon emissions. 
"I am a firm believer that little steps towards a goal turn into big strides that can create a domino effect," said MJ Jalago, a senior in public health who is working on the project.
A final report and presentation based on their analysis of carbon reduction and positivity practices will be given to the Oakland Roots team in May.
"As a purpose-driven organization our vision is to have a positive impact on the health, equity and happiness of the City of Oakland," said Mike Geddes, Roots' chief purpose officer. "We want to contribute to community health and environmental justice efforts and that starts with examining our own operations. Carbon-neutral is just our first goal and we're also examining every aspect of our business to see how we can adapt to be more sustainable - and to encourage others to do the same. The support of Cal State East Bay students is hugely important for us as we put together a strategy which is informed by local best practice and opportunity."
The hope is that the Oakland Roots will serve as a model for other sports teams on how to approach these issues in their hometown or local community in which they reside, live and play.
"For an organization of the Root's size to make such a large and comprehensive commitment to do their part in the climate fight shows that they truly do care and are not simply doing this for show," said Ryan Booker, graduating senior of public health. "They will serve as an example and a blueprint to how other large organizations can play their part and have a true impact."
As for their students, both professors want the interdisciplinary work to open the field of possibilities for them —  illustrating the broad impact they can have on health and wellness in many different organizations and professions.
"Being able to work with such a cutting-edge pro sports organization is huge," said Atencio. "They are directly part of shaping a new direction in the pro sports scene."