Education Has No Age Limit
BY Cal State East Bay
May 13, 2022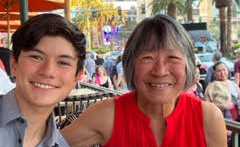 Muriel Luck was a college drop out. After graduating from high school in 1958, she went to UC Berkeley and left after just two years. 
"I was not prepared, and I had no idea what I wanted to study," said Luck. 
So, she went on with her life — raising three kids while being employed full time, even working overseas at U.S. embassies. 
In 2019, at the age of 79, she decided it was time to take care of unfinished business. She had taken some classes at Cal State East Bay's Concord campus over the years, but returned this time determined to get her degree. Little did she know, COVID-19 would throw a wrench in things, forcing her to move to online only courses. She admits she was a bit technically challenged, but overcame and even used her perspective as a mature aging adult for assignments. 
"A person has to keep moving," said Luck. "Life is an adventure, there is so much to learn, and it's never too late."
On Saturday, May 14 at 10:30 a.m., 82-year-old Luck will receive a bachelor of arts in Liberal Studies with a minor in Human Development at a commencement ceremony on the Hayward campus. She will graduate with a 3.9 grade point average from Cal State East Bay. 
"I feel so relieved, rewarded, appreciative, complete and joyful," said Luck. "I immediately updated my resume so I can finally add B.A. to my identity, as a woman, a senior citizen, and a grandmother. I am tempted to send my resume out to see if I can still get a job! I worked until I was 76 years old, without a degree."
Luck's three kids, their partners, her grandson and her friends will all be at commencement to celebrate her.
"I have no regrets," said Luck, who does daily meditation and loves keeping busy with tennis, hikes and exercise. "Honestly, I listened with my heart, wherever it took me to make me happy."