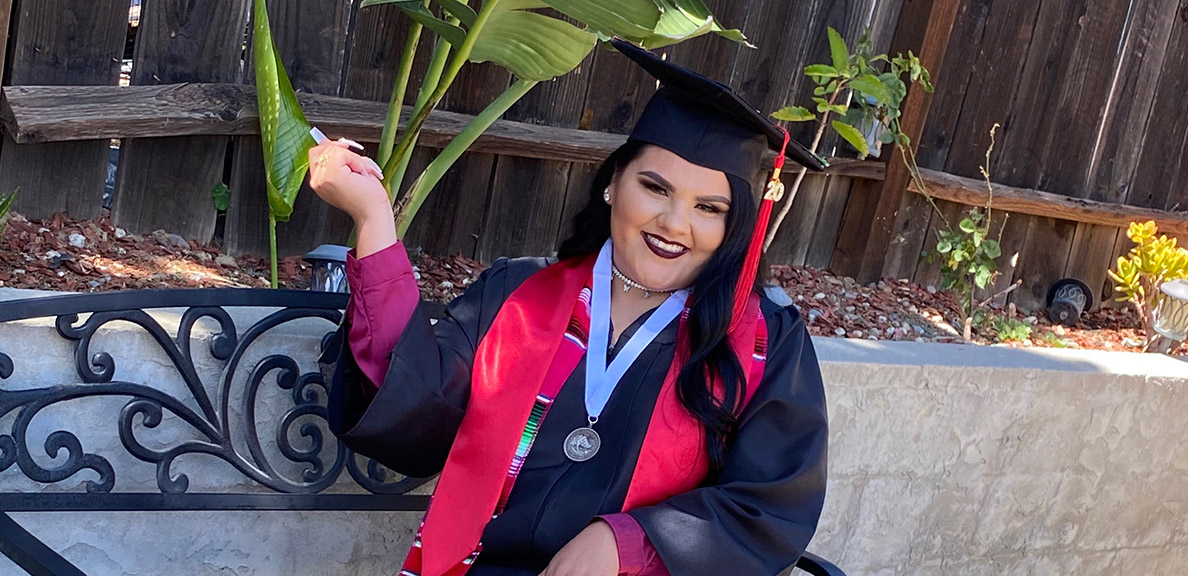 From 'Dreamer' to Dream Come True
BY Elias Barboza
May 9, 2022
Monday through Friday, Cal State East Bay sociology graduate Fabiola Ornelas can be found in her Contra Costa County office having a sincere conversation with someone she's talking to for the first time. She asks the stranger to feel comfortable and tell her what's on their mind. The client reveals they need assistance as Ornelas gives them her full attention, actively listening with a notepad on her desk and a pen in her hand. Sometimes the caller on the other end is suffering from withdrawals. Other times they're having a major crisis, living on the street and need someone to talk to. 
Ornelas is a substance abuse counselor, treating clients who are chemically dependent on drugs or alcohol. She counsels callers and refers them to programs or clinics they can visit for treatment. Experiencing a multitude of hardships during her own upbringing, including alcohol abuse within her family, Ornelas says every person she helps back on their feet is a reminder to herself that success is possible.
"The most rewarding part of my job is knowing my presence has a purpose," said Ornelas. "I help clients and their loved ones change their life for the better."
It's taken a lot of perseverance and hard work to get where she is today, Ornelas said. 
Born in Jalisco, Mexico, Ornelas was 7 years old when her mother brought her and her two sisters to the United States. They reunited with her father and brother, who were already working and establishing themselves in Antioch. 
The family of six settled into a two-bedroom government-assisted apartment, which Ornelas said, brought a lot of turmoil. Her neighborhood was known for violence, drugs and gangs. During her upbringing, Ornelas witnessed shootings and her close family members were also victims of crime. 
"I experienced a lot of trauma, and I never had role models," said Ornelas. "My parents worked simple jobs and I didn't know anything outside of that."
When she was old enough to understand, Ornelas was told she was undocumented. According to the latest study by the Pew Research Center, Ornelas was one of more than ten million undocumented immigrants residing in the United States in 2017. 
Coming from a disadvantaged family and being undocumented, Ornelas said she felt lost and believed all girls in her situation would grow up to never have successful careers. Nevertheless, Ornelas focused on her studies and in 2015 became the first person in her family to finish high school. 
"Graduating high school felt like a very huge accomplishment," said Ornelas. "I felt very honored because I got a four-year scholarship to Cal State East Bay, and I was ready to start building a career."
Before Ornelas graduated high school, the US government introduced Deferred Action for Childhood Arrivals (DACA) in 2012, a policy allowing undocumented individuals to legally obtain a right to work in the United States. The policy was strictly for undocumented people under the age of 31 with no criminal record and who were brought to the US as children. Ornelas applied for DACA and was accepted. 
Although DACA no longer allows new applicants, original DACA holders are able to continue working legally. The US Citizenship and Immigration Services states there are roughly 643,000 DACA recipients. Those DACA recipients who dream of one day living and working in the US and no longer being labeled "undocumented" are knows as "Dreamers".
"If it wasn't for DACA I wouldn't have been able to attend CSUEB, and I was given that dream, that opportunity to become someone," said Ornelas. "Even though I wasn't born in this country, I was given an opportunity to pursue a better life. That's what being a Dreamer is."  
When she first attended CSUEB, Ornelas felt she didn't belong in college. Her insecurities came from her under-resourced background. As the first person in her family to attend college, she didn't know what to expect. Shortly after starting her college career, Ornelas said CSUEB's environment helped her overcome her self-doubt.
"Being a student [at CSUEB] I got to witness a lot of first-generation college students, other DACA students, and I got to make connections by networking," said Ornelas. "I didn't feel as lonely anymore because there were programs and events that made me feel comfortable. I saw that this school cared about students like me." 
During her time in college, Ornelas joined several on-campus groups, including Associated Students Inc. and Educational Opportunity Program. She was a teacher's aide at CSUEB's Concord Campus and assisted at the front desk, all of which she said helped her feel even more connected to the university. 
She was eventually accepted into the nursing program but soon realized it wasn't her passion. While taking lower division courses, she joined a sociology class and instantly felt a connection to it. 
"When I took my sociology class, I was exposed to lots of subjects that could lead to a career," said Ornelas. "That class was all about society and why people act certain ways, and social justice, and culture and how people are raised differently. I loved learning about it." 
Learning about sociology inspired Ornelas to research it further, leading her to volunteer at homeless shelters and crisis centers, while also studying mental health. Her dedication drove her to pursue a career as a counselor in 2018, particularly with undocumented clients. She began working with Contra Costa County one year ago.
"I'm a person who loves to help people, especially people who are undocumented and only speak Spanish," said Ornelas. "It's important for everyone to know resources are there, and we shouldn't be afraid to ask for help." 
When she began her journey as a counselor, Ornelas was granted a permanent resident card, better known as a "green card", and she's no longer undocumented. She graduated CSUEB with honors and became the first person in her family to obtain a college degree. This December she finishes her certificate program in Addiction Studies at Diablo Valley College, helping her become officially licensed as a substance abuse counselor.
Ornelas officially completed her undergraduate degree at CSUEB in Fall of 2019, but never got to walk the stage because of the COVID-19 pandemic. Now she and other members of the classes of 2020 and 2021 will have their chance to be formally recognized for their achievements at a special May 12 commencement celebration.
When she receives her diploma at this week's graduation ceremony, Ornelas said she'll never forget the trials she went through to get there.
"My struggles growing up didn't stop me, it actually made me who I am," said Ornelas. "Graduating from college has motivated me to keep going. Now I'm educated, and my future kids won't have to go through what I did. My kids will know their mom beat the odds."