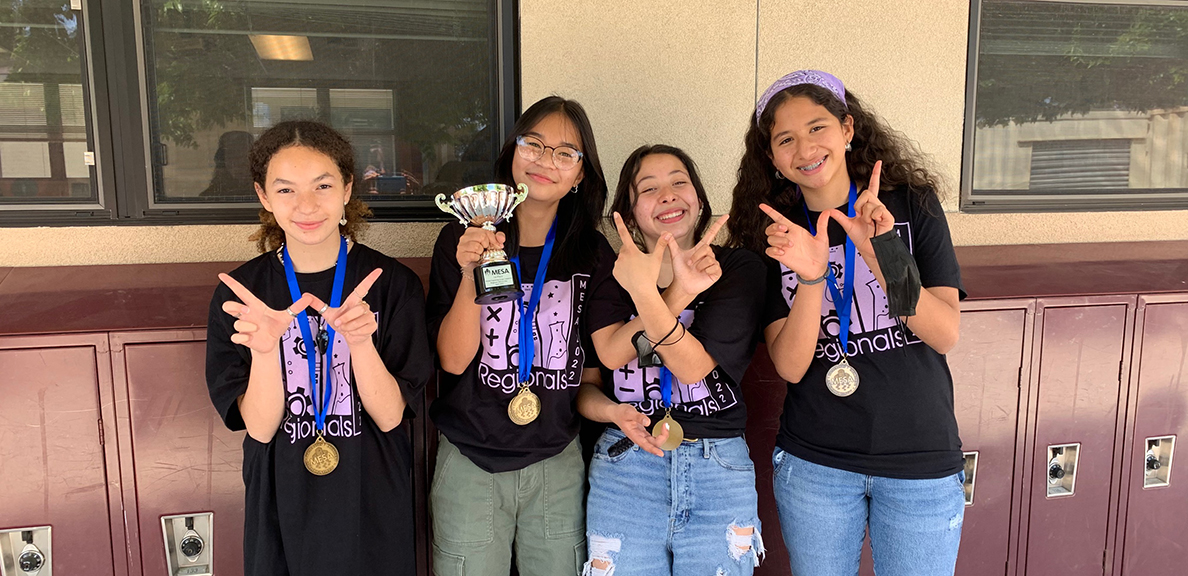 Two Cal State East Bay MESA Teams Head to State Competition
BY Cal State East Bay
May 19, 2022
On Saturday, May 21, one middle school team and one high school team from Cal State East Bay's MESA (Mathematics, Engineering, Science Achievement) College Prep Program will be competing in the state competition, showcasing their projects for the National Engineering Design Competition (NEDC). For the second year in a row, both teams from Northern California are coming from the Cal State East Bay MESA Center after beating out the competition at the Northern California Regionals.
"For me, getting to do MESA opened so many doors that I didn't know were there," said Bella*, an eighth-grader at Orchard Park School. "I am very grateful for MESA and all the difficulty that comes with it is really a blessing in disguise."
Teams have been working on their projects all academic year, and the preliminary competition occurred in March at Cal State East Bay. The regional event gave teams an opportunity to compete with other students across the East Bay, expanded their sense of a STEM community and deepened their STEM identity. In addition to the competitions, the Cal State East Bay MESA Center hosted a virtual MESA Week where local middle and high school students showcased their STEM projects, attended college and career panels and tackled online STEM trivia. 
"MESA is a place to grow and learn not only academically, but learn about yourself," said Yeretzi, an eighth-grader at Orchard Park School. "MESA is a safe place and is somewhere I can go to and show my inner nerd."
First and second place teams in seven competitions moved on to the Northern California Regional competition, hosted at University of the Pacific. 
Coming from Orchard Park School in Antioch, Team Therm-Alert developed a health device that helps underserved field and construction workers detect any possible heat-stroke symptoms. They are supported by their advisors and teachers Susan Caguyong and Staci Woolf.
Coming from John F. Kennedy High School in Fremont, Team Digi-Tally, developed a product that will assist small, poorly-staffed healthcare facilities by automating the supply inventory process. This will eliminate an important but tedious task, allowing staff to better focus on patient care. The "smart shelf" automatically monitors and alerts staff when supplies are low or otherwise need attention. They are supported by their advisor and teacher Michele Kerr.
"MESA has shown these young ladies that through their hard work and perseverance they can do all things," said Caguyong. "Their hard work and dedication is truly an inspiration. I cannot wait to see what they will create for their future NEDC projects in high school." 
"Life is a road for me and there was a period when I was lost on that road, but at the right time came MESA and it became my compass," said Natalia, an eighth-grader.
MESA is a college and career prep engine that propels student achievement for historically-excluded groups in science, technology, engineering and math. MESA's success comes from a combination of academic support, hands-on learning, supportive student communities, career preparation and more. Locally, MESA is a part of the Institute for STEM Education and functions as a partnership between Cal State East Bay, area schools, school districts, industries and professional organizations serving students in sixth through 12th grades.
*Only first names are provided for these middle and high school students.