Legendary Leader
BY Dan Fost
June 13, 2022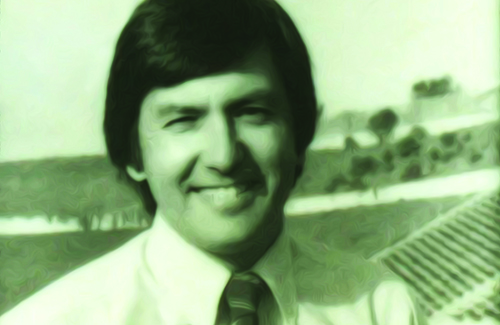 Even now, all these years later, Don Chu lights up when thinking about the athletes he coached at Cal State East Bay back in the 1970s. His face opens up with a broad smile and the stories tumble forth. 
How he managed to recruit Dave Haber and help mold him into an All-American track star. How athletes who could have competed in Division I instead came to Hayward for the legendary program that Chu and his fellow track coaches built. How he made his jumpers bound up the steps of the football stadium until their legs turned to jelly. 
"They would hop up those steps, every other step, four times, bottom to top," Chu says over Zoom, laughing at the memory. "If your legs could tolerate that, we'd go to the next exercises. I remember Norm Alston, the first time, his legs were trembling so badly."
Alston — like Chu, a member of Cal State East Bay's Hall of Fame, and now a track coach himself at Merced College — confirms the story. "My legs buckled and I couldn't get up," Alston recalls. "That's how he was. He got us into shape." 
From 1972 to 1984, Chu coached 50 All-Americans and 17 national champions in three events. Many of those athletes have stayed connected to Chu and to each other. 
Don Chu wasn't much of a student in his first stab at college, dropping out of Fresno State after a year and, in what he calls a "self-actualizing moment," joined the Army to straighten out. He served four years, going to Vietnam before the war, then came back ready to learn. 
He played defensive back on one of East Bay's first football teams in 1965. His roommate was a high jumper, but the program couldn't afford to send him to big meets. "One night, he said, 'I just don't have anybody to coach me,'" Chu recalls. "I said, 'If you don't mind, I'll read up on it.'"
The experience served Chu well as he continued his education. Chu earned a bachelor's in physical education and a master's in kinesiology from CSU East Bay. He then earned a doctorate in physical therapy from Stanford in 1974 — while coaching at East Bay, first in football and then in track. "I was a busy puppy in those days," he says. 
The story of Haber, one of two national champions Chu coached, alongside John LeGrande in the triple jump, shows Chu's approach. 
Chu heard of Haber's high jump exploits at Alameda High School. When he saw a student on the sideline at one of Cal State's meets he asked: "Do you know Dave Haber?" The student was Haber, and Chu promptly recruited him. Haber was a tremendous athlete, Chu said, but he kept tensing up at big moments, which blocked him from winning the big meets.
"He just wanted it so bad, he felt like he had to put more effort into the situation, when he really only had to focus on doing things correctly," Chu says. "When he came off the field at Sacramento State when he won the national championship as a freshman, he said, 'Chu, I'll never doubt you again.' I thought to myself: 'I got him!'
"Half of coaching is, the athletes have to believe that you've got the knowledge base to help them achieve their goals," Chu says. "If you tell them stuff that doesn't make sense to them, they're not going to listen to you.
"I considered the whole athlete in their physical and mental preparation," Chu adds. "I felt that they needed to have a balanced life. If they were balanced, they could compete well."
The other side of the mental approach was a swagger the Pioneers brought to their meets. "The one thing we really worked on was this aspect of mental toughness," Chu says. "We were not going to choke. Somebody was going to have to come up with a great performance in order to beat us."
The athletes bought in. "We were destroyers," Alston remembers. "Every time we walked through an invitational, we would hear other teams say, 'Oh crap, here comes Hayward.' Nobody liked us. That's how good we were."
Chu remembers one meet where Haber jumped 7 feet and turned to his rival from UC Davis and said: "It's on you." 
"It was the greatest exhibition of psychological warfare you could ever imagine," Chu says. The competitor "just crumbled."
On the physical side, Chu pioneered some other novel methods. He learned about Soviet Olympians training with a technique that came to be known as plyometrics. (Because Chu wrote a best-selling book on the subject, some have called him the "father of plyometrics," but he doesn't accept the title.) While Americans focused on weight machines, Russians were using their body weight with leaps and jumps.
Part of the plan was to follow the body's cyclical patterns, so the athletes are in peak form when they need to compete. The Russians followed a quadrennial calendar, peaking at the Olympics; subsequently, Chu had his athletes on top of their sport at national competitions. 
Chu ultimately left East Bay and hung out his shingle as a consultant. He's got a million stories from that era as well, from Coleen Rienstra Sommer — who missed the 1984 Olympics because she was pregnant, but still became a national champion and competed at Seoul in 1988 after giving birth — to Santa Clara's fabled Aquamaids synchronized swimming program, which has produced several Olympic medalists.
He's just as proud, however, of his athletes who've gone on to become doctors or engineers, or raise wonderful families. 
Now 81 years old, Chu notes, "I've had both knees replaced myself. That has slowed me down. I don't jog anymore. I used to run a lot. Now I limit myself to walking the dog."
He scaled back his business during the pandemic and now considers himself retired. Each of his four children was an athlete of some sort, from equestrian sports to volleyball, and now his grandchildren are finding their way in athletics. 
But the old coach never stops coaching. One grandson is a swimmer and last year, with Chu hectoring him in Zoom training sessions, "He finally started to make the connection between his improvement in swimming and his strength and conditioning."