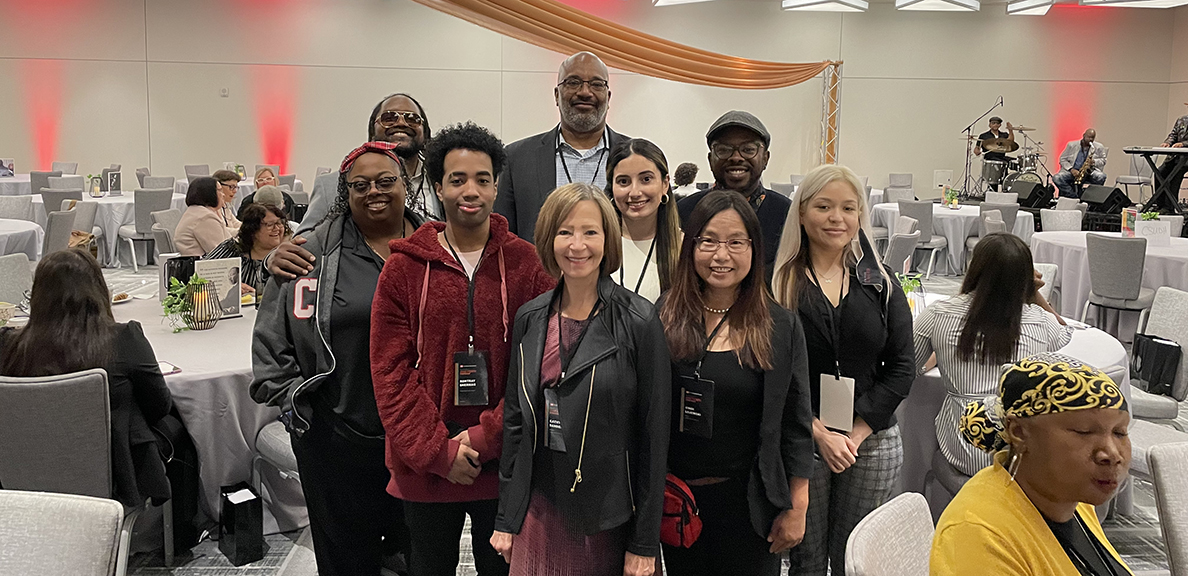 Reflections on the Inaugural CSU Juneteenth Symposium
BY Cal State East Bay
June 22, 2022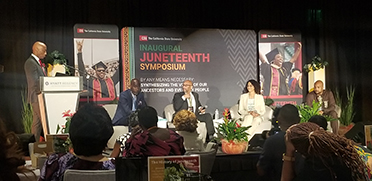 Cal State East Bay sent 25 delegates to Cal State Dominguez Hills for the CSU's Inaugural Juneteenth Symposium, entitled "By Any Means Necessary: Synthesizing the Voices of Our Ancestors and Everyday People."
The two-day event, June 15-16, was live-streamed and featured a line-up of national figures and scholars, breakout sessions and think-tank discussions designed to engage attendees in building plans to promote social justice and eliminate equity gaps for African American students across the CSU.
We asked the students, staff and faculty who attended what they learned about themselves, each other and their greater community from the event.
Why was it important for you to be at the inaugural Juneteenth Symposium?
"I wanted to connect with Black people, and I knew this would be a great opportunity to do so. Being able to hear so many different experiences and roles that Black faculty and staff were having on other CSU campuses was inspiring. Lastly, I was looking for a way to fill my cup of joy but by the time I left, I felt like I was pouring myself into a much larger cup." — Edward Hill, Cal State East Bay student
"It was important for me to be at the Juneteenth Symposium to ensure that our programming for African American students at East Bay is aligned with the work already happening and being planned at sister campuses." — Saleem Gilmore, Executive Director of the Student Equity and Success Center
"As a Sikh woman, my charge is to stand up for those that are, for any reason, unable to speak up for themselves. Recognizing that there are disparities in how and WHETHER our students access education is only a first step in moving the needle. I so appreciate the work that our campus has done in establishing affinity centers and developing a vision, mission and goals. These two days have been an important reminder that the work is ongoing and fluid. These days make me feel more prepared and motivated to approach and uplift students, staff and faculty that are under-served and underrepresented."— Anonymous
"I wanted to learn more and be part of changing the culture on campus and in the system.  Kinesiology has social justice and racial equity embedded in its program outcomes and while we have made positive strides we still have work to do. The Symposium was an opportunity to learn more about a call to action." — Paul Carpenter, Chair of the Department of Kinesiology
What was your biggest takeaway from the Juneteenth Symposium?
"This symposium was an opportunity for us to learn collectively about the experiences of Black people through elevating Black voices. There was space for learning, growth, empowerment of Black people, community with one another and allies and for us to be unapologetically Black in an educational collective. The unapologetic Blackness exhibited and embraced by students and educators alike from all over the CSU system was the most impactful part of the symposium. As a Black woman educational leader, to experience Black joy in the presence of university presidents and board of trustee members that are tasked with the responsibility of making decisions that impact Black students was invigorating. I hope that the holders of these prestigious titles and responsibilities had their understanding deepened and their hearts expanded with love for our Black students who are often an afterthought or not thought of at all in our education systems." — Cookie Garrett, Black Student Success Center Coordinator
"My biggest takeaway was that community is needed on CSU campuses. Students leave home while still children and flail in this system. They need to know they have community but also how to access that community." — Anna Jackson, Cal State East Bay student 
"'Racelighting' was not something I thought much about before the symposium, but now I have started to think much more about how to disrupt processes that make people of color question thoughts and actions connected to their own lived experiences with racism." — Walt Jacobs, Incoming Provost
"I want to become an unapologetic black man." — Dana Rucker, staff, Department of Psychology 
What lesson do you hope we (including those who watched virtually) take from the Juneteenth Symposium?
"In order to continue building a more harmonious nation, the current historic United States racial reckoning should involve efforts to come to terms with both historical ills as well as the continued oppression faced by minoritized communities." — Walt Jacobs, incoming provost
"The first step is data collection...and it's important for data to be dis-aggregated data so that there is a benchmark to help examine success against meaningful performance indicators. Secondly — we've done great work on our campus to assess climate and develop the vision, mission and goals. I'd love to see how the data analysis articulates in terms of a singular vision and mission and how newly-hired VPs will relay that into departmental goals bearing in mind which of our students need better care/services." — Anonymous
"I learned that these institutions, although diverse, aren't always friendly and welcoming. Work needs to be done at the highest levels of these institutions and to involve not only administrators but you HAVE to involve faculty and students!!!! Dr. Shaun Harper said, 'Until you do right by Black faculty and students, everything you do is gonna fail.'" — Anna Jackson, Cal State East Bay student 
"We must do all that we can to obliterate systemic racism." — Dana Rucker, staff, Department of Psychology
What was the most meaningful moment for you at the Juneteenth Symposium? 
"The most meaningful moment of the inaugural CSU Juneteenth Symposium for me was creating space to empower Black women! In this space, Black women built community, experienced some healing, celebrated the power and knowledge of Black women and we fellowshipped in love. It was pure Black joy!" — Cookie Garrett, Black Student Success Center Coordinator
"The most meaningful moment was the Women's Empowerment Circle that Cookie Garrett created. She was able to secure a room and we as women-professors, administrators and students were able to come together and just be. Be in the moment, Be in the space, and Be unapologetically Black!!!!!" — Anna Jackson, Cal State East Bay student 
"Seeing committed Black students, staff, faculty, and administrators being unapologetic about implementing the CO mandate to improve academic outcomes for Black students." — Saleem Gilmore,  Executive director of the Student Equity and Success Center
"It is hard to pick a singular moment — everything was meaningful and impactful. The session on racelighting opened up something I had not come across before and which needs to be addressed." — Paul Carpenter, Chair of the Department of  Kinesiology
"The most meaningful moment was the amount of joy I felt and could see on the faces of so many educated Black people. The music, the dancing, and the cultural expression of Blackness were on full display. The session I enjoyed the most was with Dr. Edward Bush. Aside from his outspoken view of what the next steps should be, he facilitated a beautiful conversation on moving from an 'Anti- Racist to Pro-Black institutions'." — Edward Hill, student