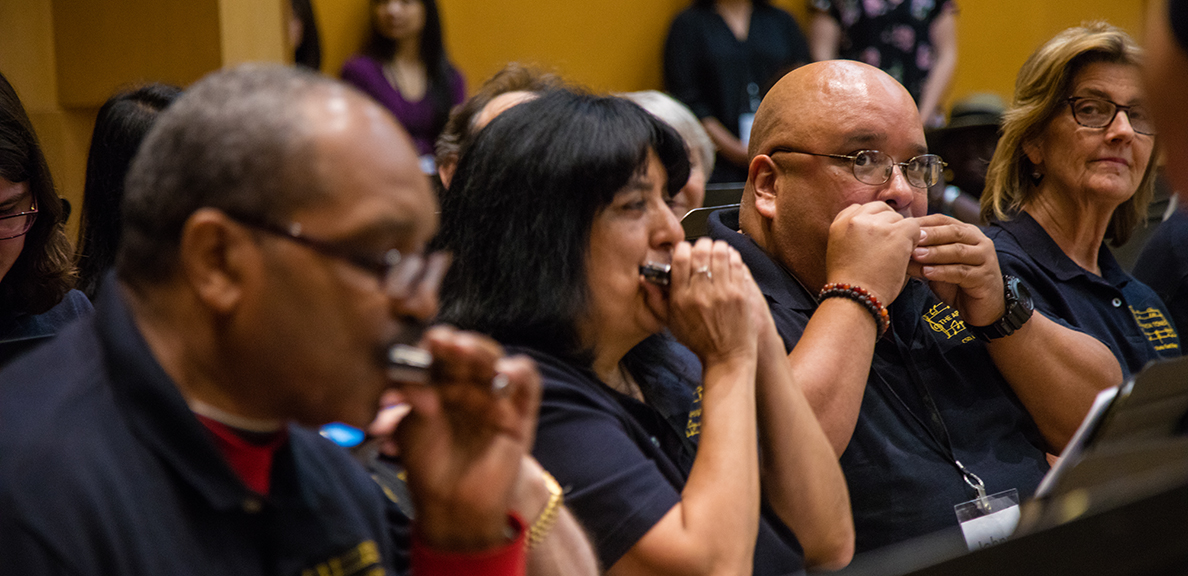 Aiding Communication for Individuals with Aphasia
BY Cal State East Bay
August 3, 2022
Imagine if you were trying to speak and no one could understand you. That's what it's like for the more than two million Americans who live with aphasia, a disorder that results from damage to parts of the brain responsible for language. It can profoundly affect a person's ability to speak, listen, read and write. 
Two years ago, only 14 percent of Americans had heard the term, "aphasia." Now, that number has jumped to 68 percent, according to the National Aphasia Association, after actor Bruce Willis announced he was diagnosed with the condition. 
Cal State East Bay Professor Emerita of Speech, Language and Hearing Services Jan Avent recognized the importance of programming for aphasia decades ago. In 1996, she started the innovative Aphasia Treatment Program, which focuses on providing excellence in aphasia therapy and student training. ATP has since been expanded and is the model for similar person-centered aphasia treatment programs across the country. 
ATP will celebrate its 25th anniversary on Aug. 20 from 12-3 p.m. at the Music Building on the Hayward Campus with current and former ATP members, their families and care partners along with ATP student clinicians, current students and alumni. 
"We are proud of what we have accomplished — training students to be competent, thoughtful speech-language clinicians, promoting the participation of people with aphasia in activities of their choosing and raising awareness about the condition in the East Bay community and beyond," said Michelle Gravier, Ph.D., CCC-SLP, ATP director of research.
ATP will also be celebrating its return to in-person programming. In March 2020, the COVID-19 pandemic forced the program to pivot overnight. Approximately 80 percent of ATP members, most of whom had never been on a Zoom call, joined online communication groups. These groups, which allow students to receive valuable clinical training in telepractice, will continue in the ATP's hybrid learning. 
"During a time when many of our members were among the most vulnerable for being socially isolated, moving our program online allowed us to expand involvement from two to five days a week," said Ellen Bernstein Ellis, Aphasia Treatment Program specialist.
"They went on Virtual Tours around the world, had cooking discussions, practiced storytelling, connected with literature through book club, including graphic novel group, discussed hot topics and good news in current event groups, learned new skills in tech group, shared perspectives in the Living Well with Aphasia group, and explored aphasia advocacy ideas. This was all in addition to an exercise group and choir."
ATP coordinators say one of their greatest achievements in the last 25 years has been the sheer number of clinicians who are still in the community, delivering best practices in therapy to individuals with aphasia. ATP Director Sophia Kanenwisher plans to continue the program's mission to train speech pathology graduate students in delivering innovative aphasia group treatment focused on partnering with individuals with aphasia and providing meaningful opportunities to share and connect.