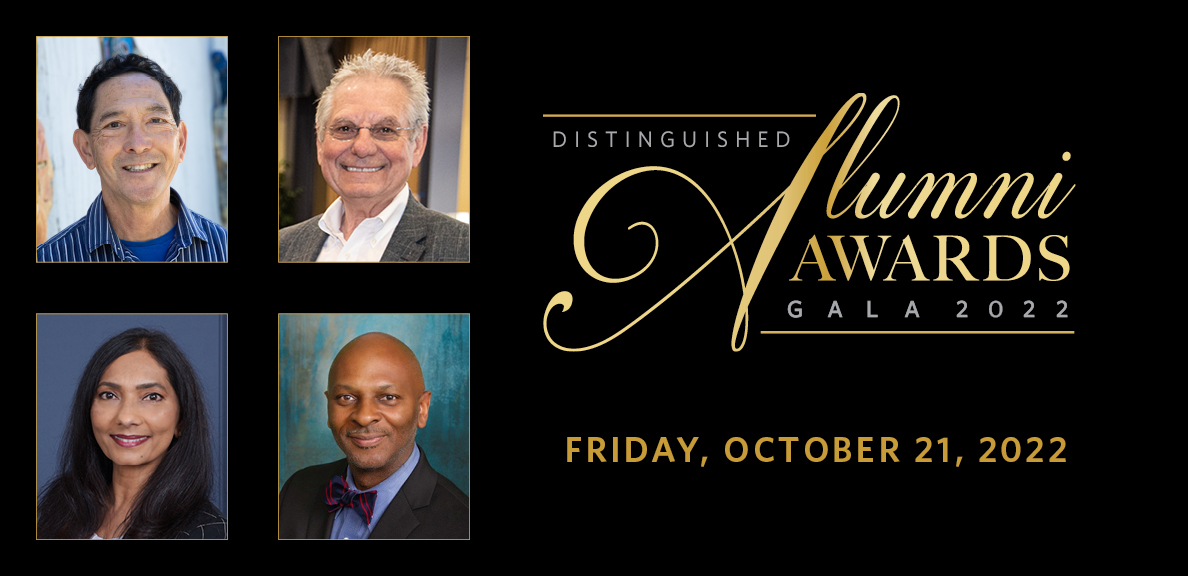 Announcing the 2022 Distinguished Alumni Award Recipients
BY Cal State East Bay
September 27, 2022
Cal State East Bay will honor Anupama Anantharaman, Daryl Camp, John Toki and Marvin Remmich as its 2022 Distinguished Alumni Award recipients. 
The Distinguished Alumni Award recognizes the accomplishments of individuals who have graduated from California State University, East Bay and made remarkable contributions in the areas of community or public service, or professional or personal excellence; demonstrate a commitment to the values of the university; contribute to scholarship, lifelong learning, and civic engagement; assume positions of ethical leadership within the regional and/or professional communities; and provide exemplary service to, or in support of, the university. 
This year's honorees will be recognized at the Cal State East Bay Distinguished Alumni Awards Ceremony and Gala on Friday, Oct. 21 at 5:30 p.m. in the New University Union Ballroom on the Hayward campus. 
Anupama Anantharaman (B.S. '94, Computer Science) 
College of Science
Anupama Anantharaman is a digital TV industry professional from Silicon Valley, with more than 20 years' experience in video compression, transmission and OTT streaming. Anupama began her career as a software engineer at Compression Labs, a pioneer in MPEG-based digital video conferencing. Subsequently, she held product management and business development positions focused on internet-based video communications. At Interra, Anupama manages product marketing activities.
Daryl Camp (M.S. '01, Educational Leadership and Administration)
College of Education and Allied Studies
Daryl Camp is the superintendent of the San Lorenzo Unified School District. He started there in 2019 after serving as superintendent of the Riverbank Unified School District in Stanislaus County for seven years. Daryl has been an educator in California since 1991, beginning as a substitute teacher and coach in the Oakland Unified School District. He continued in leadership roles as an assistant principal, house principal, high school principal and assistant superintendent.
John Toki (B.A. '74, Fine Arts)
College of Letters, Arts and Social Sciences
John Toki has led a multifaceted life as an artist, author, educator, businessman, inventor, art collector and patron of the arts. John established the Toki Studio in 1974, in Richmond, Calif., while still a student at Cal State Hayward. He went on to exhibit his sculpture throughout the country and produced public art commissions for Oakland City Hall, City of Berkeley – University of California Berkeley Art Museum and Pacific Film Archive, and for the City of Sacramento. 
Marv Remmich
(BS '69, Business Administration)
College of Business and Economics
Marvin Remmich is the founder and president of RAM Properties, Inc., which combines his extensive experience with investment properties and his passion for helping people. Previously, he worked in hospital administration and accounting, and ultimately earned him the position of CFO of a major California medical center. Marvin serves on a number of non-profit boards, including the Cal State East Bay Educational Foundation.
Join us at this year's event on Friday, Oct. 21. Register today!