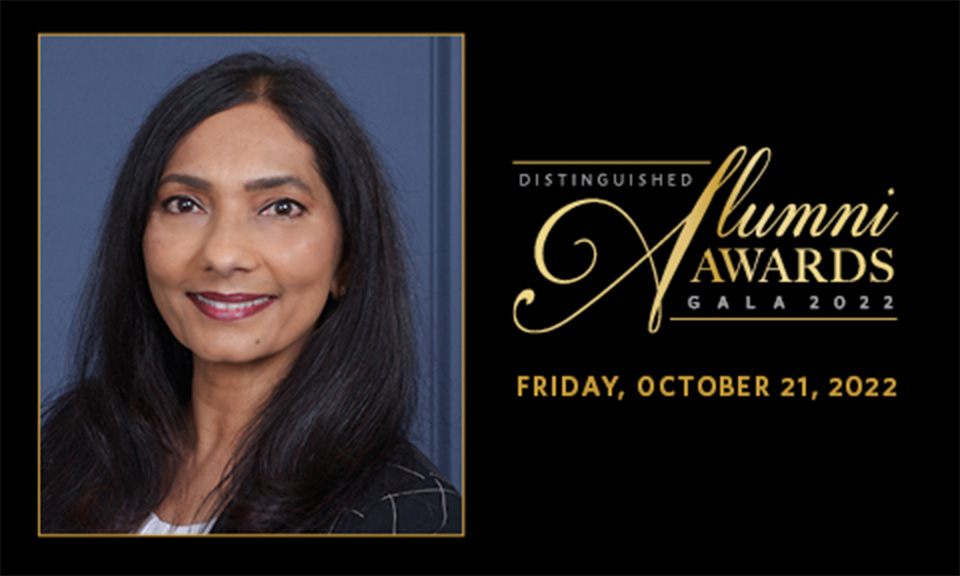 Distinguished Alumni Award Honoree Anupama Anantharaman
BY Kimberly Hawkins
October 4, 2022
Anupama Anantharaman was at the right place at the right time. 
"We were at the cusp of a boom," she said. "PCs were everywhere. Microsoft, IBM, Apple, Hewlett Packard—people looked up to these companies because they were pioneers. There were hundreds of start-ups. The environment was invigorating."
In 1991, Anantharaman enrolled at Cal State East Bay to pursue her goal of becoming an engineer. Three decades later, she still embodies the spirit of a pioneer, creating innovative, cutting-edge products for her customers at Interra Systems. Anantharaman is the vice president of product management.
"Science and technology are driving everything these days from cars to mobile phones to small appliances," Anantharaman said. "I get to talk to customers and experts in the industry and come up with ideas, develop products and solve problems."
Anantharaman says her time at Cal State East Bay fueled her curiosity and passion, paving her journey to where she is now. She has learned that talent and hard work are what matters and that being a woman in a male-dominated industry has its benefits.
"Women have a unique ability to bring people together," said Anantharaman. "We are very creative and collaborative by nature and we want to find a solution that is best for everyone."
Anantharaman's passion for technology and desire to create solutions led her to develop a next-generation content monitoring product called ORION. Having worked in the media industry for 15 years, Anantharaman was familiar with the challenges and frustrations of companies trying to keep an edge while grappling with new formats, delivery platforms and explosive content volume. The tool she created and launched is recognized in the industry for providing one of the most advanced, in-depth solutions for video quality monitoring. 
With science and technology going digital, Anantharaman says it's an exciting time that harkens back to the birth of Silicon Valley. She says we can all expect breakthroughs in video including compression and machine learning. 
"I am proud of the things I have accomplished, but there is more that I can do," she said. "The media industry is growing and there are so many new technologies coming up. I want to learn more and use these technologies to come up with better solutions for our clients. Many more ideas, much more to come"
Anantharaman will be honored as a Cal State East Bay Distinguished Alumni at an awards ceremony on Oct. 21 at 5:30 p.m. in the Pioneer Ballroom on the Hayward campus. 
The Distinguished Alumni Award recognizes the accomplishments of individuals who have graduated from California State University, East Bay and made remarkable contributions in the areas of community or public service, or professional or personal excellence; demonstrate a commitment to the values of the university; contribute to scholarship, lifelong learning, and civic engagement; assume positions of ethical leadership within the regional and/or professional communities; and provide exemplary service to, or in support of, the university.