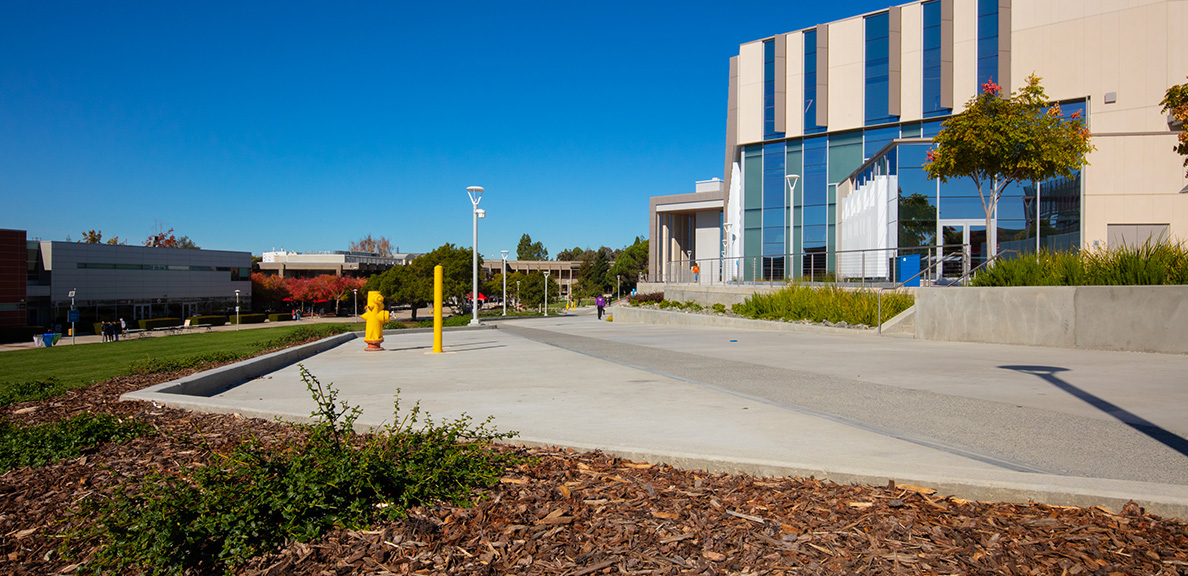 Cal State East Bay Receives a Sustainable California Libraries Grant
BY Kimberly Hawkins
November 3, 2022
Cal State East Bay is one of 20 local libraries to receive first-ever funding from the California State Library for sustainability. The $30,000 grant will be used to help create the Muwekma-Ohlone Walkway near the CORE Library Building on the Hayward campus. The pathway will be lined with indigenous flowers and plants—emphasizing sustainable agriculture and the Bay Area's Native American history, which is in alignment with the new Sustainable California Libraries grant program. 
"Like most planned buildings, the grounds surrounding the building are considered an extension," Professor of Ethnic Studies and Tribal Liaison Enrique Salmón said. "The CORE is already a vital part of the campus and therefore, the landscaping is equally vital toward serving our commitment to honor the legacy of the original indigenous habitants of the East Bay. We cannot return the land to the Ohlone, but by recalling some of the natural environment that existed prior to European contact and many of the culturally significant plants, the Core's landscaping affords a theme of returning something Ohlone to the place." 
The project, led by a team of Librarians, faculty, students, and members of the Muwekma Ohlone, is supported in part by the U.S. Institute of Museum and Library Services under the provisions of the Library Services and Technology Act, administered in California by the State Librarian.
Cal State East Bay's project was inspired by a Spring 2022 "Cultures of Habitat" class. Students learned ethnoecological knowledge of some East Bay communities of color and the role they play in culturally sustainable adaptations to the Bay Area. The students wrote research papers on native plants and flowers. 
Two students, supervised by Salmón, are now working to summarize the papers and write brief descriptions of the plantings for the walkway. They will also work with landscapers to install the plants and position the information signs in time for its Earth Week unveiling in April 2023. 
As part of National Native American Heritage Month in November, the team hopes to present a preview of the walkway and do outreach to nearby schools, so that they can plan visits in the Spring.  
Once the walkway opens, there will be guided tours, programs andplanting sessions that emphasize sustainability, Native American heritage and the growing field of ethnobotany. For additional information or to access the programming, please contact linda.dobb@csueastbay.edu