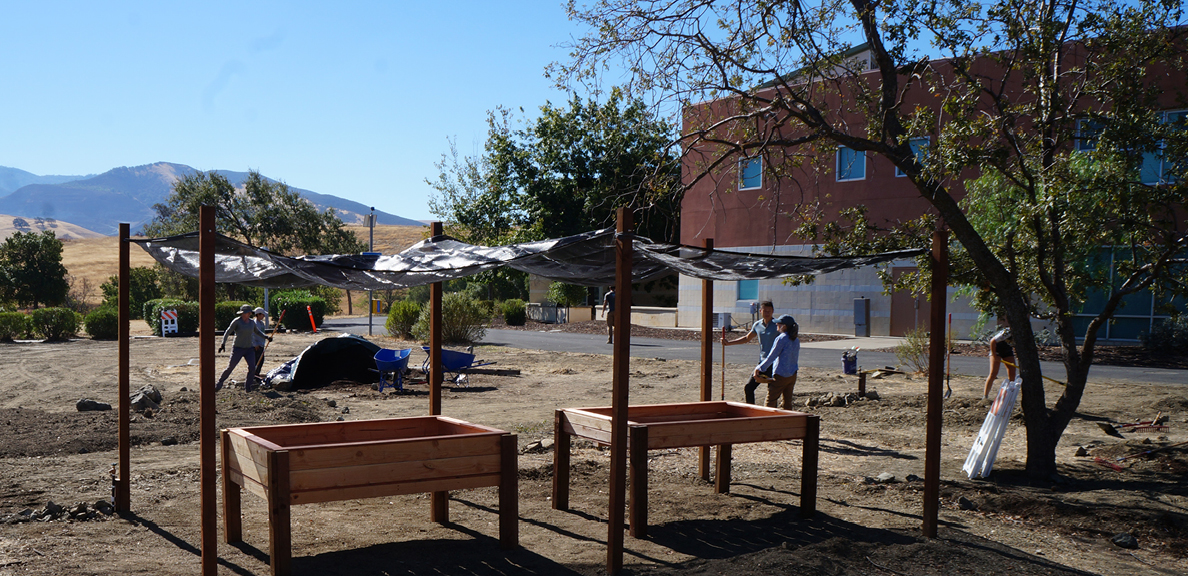 Recognizing the University's Indigenous Land: Concord Campus Breaks Ground in New Ecocultural Garden
BY Elias Barboza
November 17, 2022
At the foot of the colossal Mount Diablo in Contra Costa County, a 386-acre-wide area of land sits on a hill overlooking the northern East Bay. At night, crickets chirp loudly before the sun rises. Birds, amphibians and reptiles roam this quiet location with their larger animal counterparts, such as deer, coyotes and bobcats, at all times of the day. Tall grass and trees of different shapes and sizes decorate the landscape. For more than 30,000 years, this territory was home to Indigenous peoples, including the Ohlone and Bay Miwok tribes, who lived sustainably for generations.
This site also happens to be where Cal State East Bay's Concord Campus has flourished since 1992, and today, the campus is establishing a 6,000 square foot ecocultural garden to acknowledge its Native past. The Wolwonja Ecocultural Garden's mission will be to educate the public about Indigenous communities and their agricultural methods, and encourage visitors to get in touch with nature. It will be an accessible public space that showcases how to sustainably grow native foods, and medicinal and utilitarian plants. Those plants will be made available to local Indigneous communities for ceremonies, ancestral crafts and for revitalizing their ancestral foodways. Everything grown in the garden will be carried out sustainably in ways that benefit the garden's natural habitat.
"This garden is where people can honor nature on a spiritual level, and on a food level and understand the importance of land," said Kathy Cutting, Concord Campus' administrative support coordinator who's in charge of the garden's design. Cutting has also gained significant support from local Ohlone tribe members. "This project is a bridge for our university to further connect with community members." 
So far, the Wolwonja ecocultural garden (Wolwonja means "mountain" in Chochenyo, the language of the Bay Miwok) is running on schedule. It began earlier in the year with the help of a grant, and its date of completion will be determined by future potential financing.
Staff, students and Contra Costa community members have worked side-by-side at the garden since summer, setting the foundation and rigging irrigation. Compost bins, planter areas and a shade structure have also been assembled. The garden will specialize in growing drought-tolerant plants and foods that are native to the Concord area, such as acorns, chia seeds and yampah. Plans for several additional amenities include a mobile-accessible pathway, a slope leading to a meditation area and Latin and English plant identification tags on every item that's being grown. Each tag will also be written in Chochenyo.
Four students from the Cal State East Bay humanities course "Eating The Landscape" are assisting in building the garden's foundation. They're helping with planting, creating catch basins and building check dams and terrace works. The course is taught by Ethnic Studies Professor Enrique Salmón, who encouraged his students to take part in the project. Along with Cutting, Salmón has connected with local Indigenous members, and took part in planning and designing the garden.
"It is possible to grow native California plants in a sustainable manner, and there are Indigneous Californians committed to maintaining their ancestral land management practices," said Salmón. "I would like as many CSUEB faculty, staff and students to become familiar with the project and to figure out how to get involved if they have the time."
One of the students involved is Starrlisah Stewart. She's helped with the clean-up process and planting oak trees around the garden's edge. Stewart has kept a daily journal of her involvement with the Wolwonja Ecocultural Garden and said being a part of it has been a worthwhile learning experience.
"Being outside with my hands in the dirt gives me a sense of mental stability," said Stewart. "I've gained knowledge of different plants and trees. I'm helping to take care of the planet, and even if it's only one little thing I'm helping with, I want to be a part of that."
In addition to learning and community-building, the garden has formed a bond with Cafe Ohlone, an Indigenous restaurant dedicated to authentic culinary traditions of the Ohlone. The restaurant is located on the University of California, Berkeley campus, and will use items grown from the ecocultural garden in its traditional Ohlone dishes. 
"The garden is within our East Bay homeland, and we work to promote the restoration of all things native to the East Bay, including plant life," said Vincent Medina and Louis Trevino, co-founders of Cafe Ohlone. "Environmental justice and justice for our East Bay community are inextricably connected."
Back at the Concord Campus, the crew of staff and students hang up their garden gloves, exhausted after spending the day hauling several hundred pounds of dirt and setting up structures. Garden tools, shovels and wheelbarrows come to rest as student Ana Rosario Ramirez gathers her belongings to go home. She's worked at the garden for several weeks, and said this has been her way of giving back to her community.
"This garden shows us the importance of preservation, because preserving these cultures and concepts is how future generations can learn from them," said Ramirez. "Let's be resilient and continue to give back and keep these cultures alive."
For more information about the Wolwonja Ecocultural Garden and how to get involved, contact Kathy Cutting. 
Special thanks to the stakeholders who took part in the planning grant:
Contra Costa Resource Conservation District
Cafe Ohlone Co-Founders Vincent Medina and Louis Trevino 
Osher Lifelong Learning Institute's Chair Bette Felton
Save Mount Diablo's Land Manager Sean Burke
UC Master Gardeners Community Garden Lead Karen Maggio
Ethnic Studies Professor and CSUEB Tribal Liaison Enrique Salmon