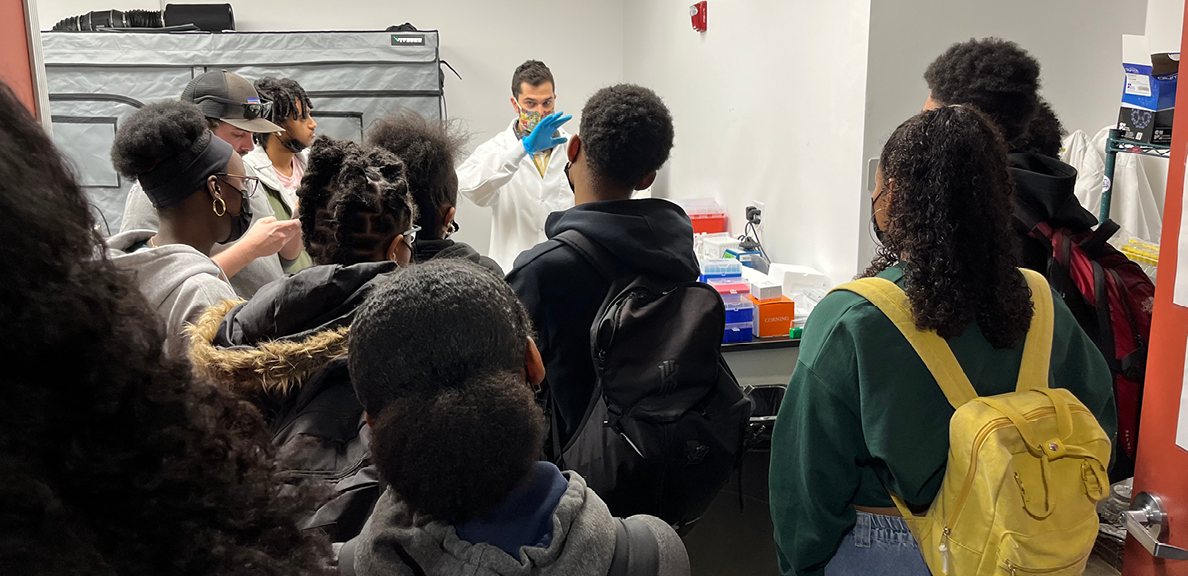 Creating Future Leaders with STEM CareerX
BY Cal State East Bay
November 15, 2022
Many local high school students—especially those who will be the first in their family to attend college—have limited knowledge of the wide variety of STEM careers that may be open to them, and of common pathways in STEM. Consequently, they struggle to set short- and long-term goals about what classes to take and what types of post-high school programs will be necessary to achieve their goals.
Their high school teachers, who have strong STEM content knowledge, often lack the experience with STEM businesses to build real-world context and connections into their curriculum. This situation is exacerbated in low-income communities where students come from historically underrepresented groups.
These challenges are being addressed by a $75,000 grant from the Bayer Fund to launch STEM CareerX at Cal State East Bay. "Our goals are to provide students an opportunity to learn about local STEM businesses, to learn about the educational and career paths of STEM professionals, and to facilitate the development of a supportive relationship between STEM businesses and their local high school," says Bruce Simon, director of the Institute for STEM Education.
"Throughout the years, the grants given through [the] Bayer Fund have helped strengthen our communities across the United States," says Al Mitchell, president of the Bayer Fund. "We're proud to be able to provide support to develop programs that help combat challenges such as food insecurity, STEM education, and support services to patients and families managing an illness or disease."
STEM CareerX builds on the decade-long work by Simon and his team to get local students interested and engaged in STEM. Beginning in spring 2022, the Institute for STEM Education has partnered with Berkeley High School, Emery High School in Emeryville, and the offices of economic development in the two respective cities. High school students visited local STEM businesses to explore careers in-depth, while their teachers were given programming to use before and after the visits to capture students' attention. In addition, teachers received resources to integrate the visit into their standard curricula.
Through the partnership, students will have the opportunity to learn about educational and employment paths that can lead to a sustainable career in the East Bay. Local businesses will develop meaningful relationships with their local high school, and thus with a potential future workforce to support an inclusive and robust economy.
From January to May 2022, the first CareerX pilot program took 70 high school students and seven high school teachers to three different companies. Each engagement was three hours long and included a tour of the companies' workspaces and labs, informal conversations with employees at their workspace, demonstrations and hands-on activities, and career path discussions.
The results of CareerX were immediate. Of the students who participated, 83 percent said that touring the company sites and informal conversations with employees were very valuable. And four out of five of students said they found the career path discussions to be equally beneficial.
"Grades should not define you, career paths can always change. You have to take chances and go in different directions," said one high school student.  
The high school teachers who participated in the company visits also found great value in the experience. "Learning about next gen sequencing was a big highlight, as we can't really show or teach that," said one educator. "It was so great the company had a diagram on a white board, ready to teach it."
---
Make a difference for Cal State East Bay students on #GivingTuesday, November 29.