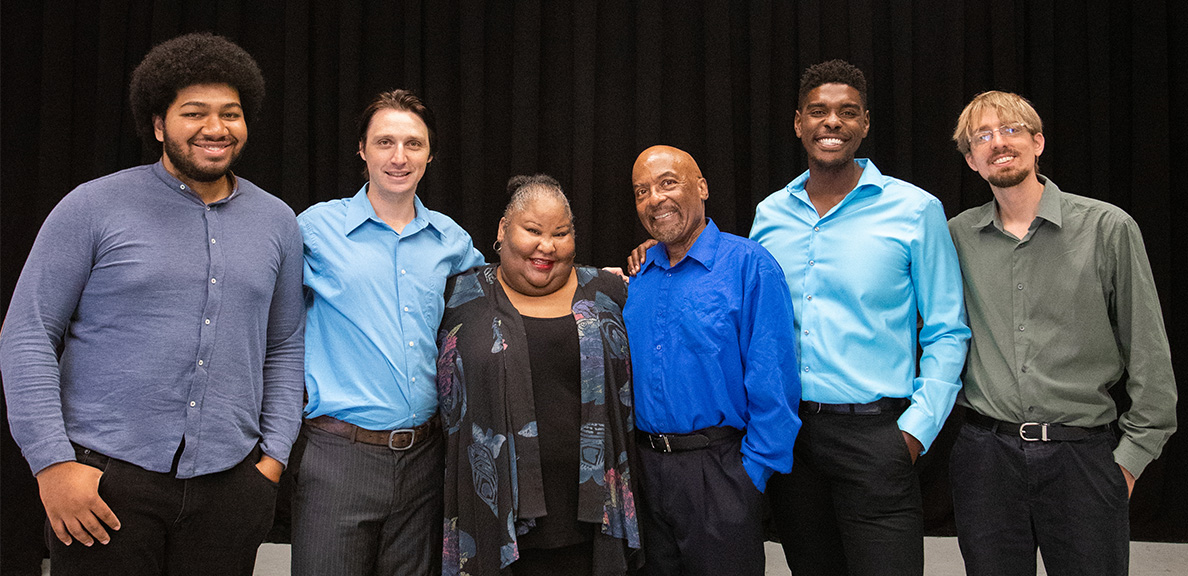 HALIE!
BY Kimberly Hawkins
November 17, 2022
Cal State East Bay Professor of Theatre and Dance Darryl V. Jones was inspired by a dream he had shortly after the death of his colleague, playwright and theatre artist Wendy E. Taylor, in 2019. In the dream, he and a former student and playwright were with a motherly African American woman who sat in the living room of a home he says he didn't recognize. 
"The aura around this woman was extremely loving and maternal, but I wasn't sure who she was," said Jones. "I was just overwhelmed with a spirit of well-being. After the dream, I was convinced that I had been called to continue the work that Wendy and Mahalia had started."
Three years later, HALIE! The Mahalia Jackson Musical will be performed Dec. 2-24, Thursdays-Saturdays at 8 p.m., Sundays at 3 p.m. and on Dec. 24 at 3 p.m. in the Magic Theatre in San Francisco's Fort Mason.
The musical celebrates the life of the gospel legend and Civil Rights activist Mahalia Jackson and was originally written and developed by Taylor in New York. It came to Cal State East Bay in 2015, and Jones and Taylor continued to workshop the show until her death. 
"I began rewriting the script to focus on themes of black racism and oppression that Mahalia experienced within her life and that still plague the African American community today," said Jones. "But we have a new awareness now of the power we have to effect change. And I want this story to continue to inspire young people not to settle for the status quo or a few crumbs but for change and the whole pie," Jones said. 
The show follows Jackson's life from her humble beginnings in New Orleans to her international acclaim as Queen of Gospel and how her experiences paved the way for countless others like Aretha Franklin, CeCe Winnans and even pop icons like Lizzo. 
Jones said that through this musical, he is honoring the legacy of Jackson, Taylor and all of his female ancestors. 
"I wanted to tell a story to inspire young black girls, women, boys and men to continue to use their minds, talents, fortitude and faith to affect change in their lives and within their communities as Mahalia had done," said Jones. "Mahalia's story feels synonymous with all of the Black women in my family: my mother, my aunts, my grandmothers—and their ability to overcome insurmountable odds through a strong work ethic and deep, abiding faith."
Throughout the process from concept to stage, Jones has included his former and current students. Alumna Hannefah Hassan-Evans is choreographing the production  HALIE and theatre student Mikeila Montemayor was the stage manager for the summer writing script workshop in 2022. "This show has allowed me to have the amazing experience of working with people who are immensely devoted to helping people through the magic of theatre," said Montemayor. "To see them work hard for this production really sends a message to me about how much of an impact this show will have on people's lives."