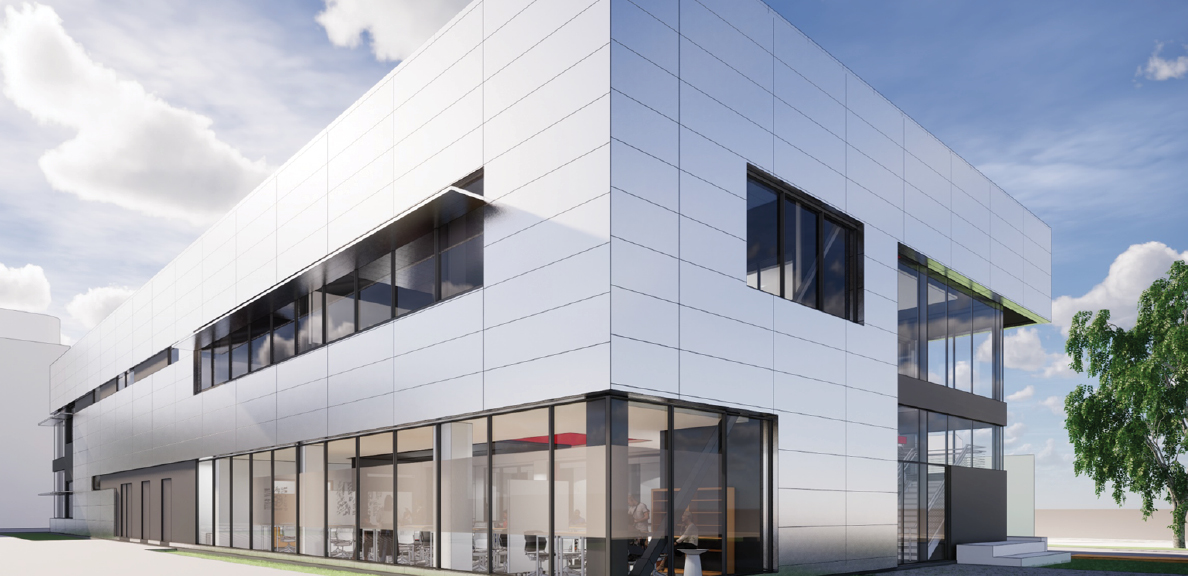 State-of-the-Art STEM Facility Begins Construction
BY Cal State East Bay
November 8, 2022
The idea for an Applied Sciences Center was really a simple formula: Take one part students' rising interest in STEM majors. Add in the state's projected needs for career-ready professionals in science, technology, engineering and mathematics. But the catalyzing agents were dozens of donors eager to support a state-of-the-art lab and learning facility for the College of Science.
The result is a remarkable moment in Cal State East Bay's history: a building funded entirely with private support, an effort seldom achieved for public universities. The vision for the Applied Sciences Center was launched with a challenge grant from a regional foundation, encouraging the university to raise $15 million to match its gift. Countless alumni and community leaders came forward to support the project, including Robert Braddock, Randall and Patricia Davis, Patrick Devine, Evelyn Dilsaver, Cheryl Keemar, Cherrie Nanniga, Marvin and Susan Remmich, the Nancy P. and Richard K. Robbins Family Foundation, and Richard Sherratt.  
In early 2022, the university reached its goal to trigger the match gift, totalling $30 million in private funds needed to build the facility. On Dec. 8, shovels will hit the dirt, beginning construction for the 21,000 square foot building, situated adjacent to North Science.  
"Our alumni and partners know the importance of Cal State East Bay's role in creating and driving innovation in the region and beyond," said President Cathy Sandeen. "Their generosity is an endorsement of what this university means for our students, our faculty and what higher education does to support vibrant economies and solutions for a sustainable future." 
The Applied Sciences Center will prepare Cal State East Bay students for careers in innovative and essential industries. 
"By investing in this infrastructure and technology today, we are investing in critical science education for our future students, our community, and the world," Randall Davis said.
The Applied Sciences Center's building plans address the learning style that is at the heart of many of the university's majors: peer-to-peer guidance in gateway courses that build strong foundations, interactive research with faculty working alongside undergraduate and graduate students, and cross disciplinary, cutting-edge laboratory spaces. The layout includes: 
Cutting-edge research labs will house student and faculty teams working on research to ensure students leave Cal State East Bay with in-demand skills. These labs will be dedicated to: 

The new Green Biome Institute, focusing on the genomic profiling of California's endangered plants. 

Biotechnology, with students receiving an excellent education in molecular biology and bioinformatics and extensive experience with next-generation sequencers. 

Interdisciplinary research in computer science and computer engineering.

Technology Collaboration Center, a student-faculty research space, which will support interdisciplinary research into the applications of new technologies. The Center will be computationally focused with collaborative space, enhanced with visualization technologies.

STEM Lab will support students as they move through their introductory science classes. Cal State East Bay's pilot program, using advanced students to coach those in lower division coursework, showed a significant leap in passing rates for gateway courses, helping to close the achievement gap for students of color. This lab will allow for the expansion of this program.

Flexible Learning with classroom spaces — functioning more like team offices — allowing students dedicated space for their work and for team collaboration. Externally focused projects to build the STEM pipeline among high school and middle school students will use these spaces as well, inspiring young people to study science and ultimately join the Bay Area STEM workforce.