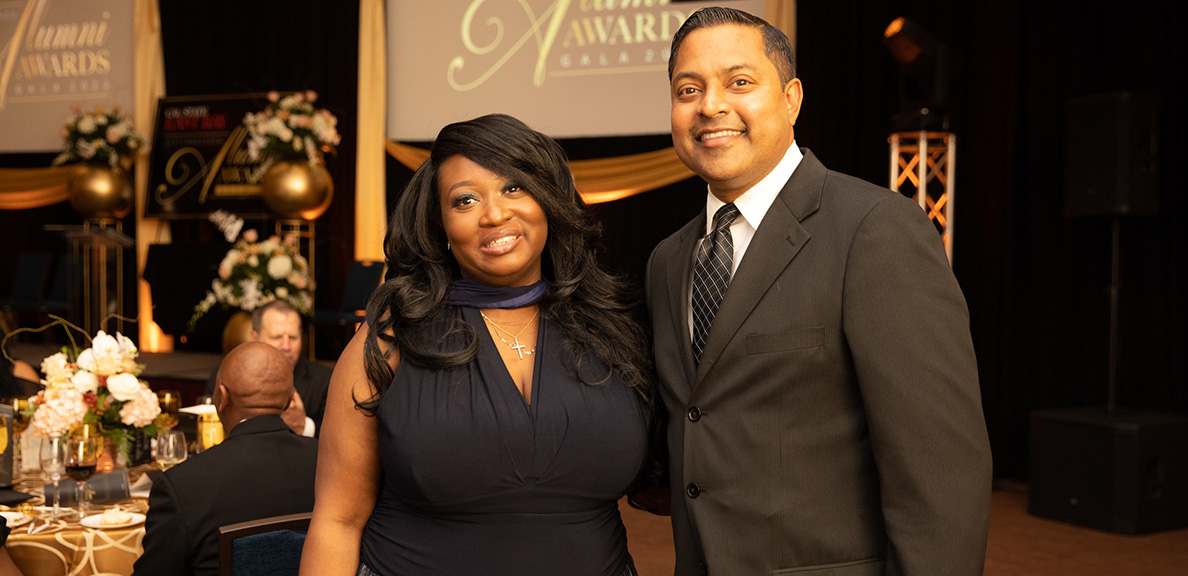 Alumna Launches First Endowed Scholarship for Public Health
BY Cal State East Bay
PHOTOGRAPHY BY GARVIN TSO | VERONICA COLLINS (LEFT) WITH PROFESSOR ARNAB MUKHERJEA (RIGHT)
December 6, 2022
Paving the way comes naturally to Veronica Collins (B.S. '19, Health Sciences), whether through philanthropy to her alma mater or in her life's work. Collins is an Air Force veteran who came to Cal State East Bay as a first-generation nontraditional student, working as a surgical technician while obtaining her degree. Seeing patients arrive in the operating room for emergency surgery and hearing them express their concerns about not being able to afford the cost of the care they were receiving prior to their procedures had a profound effect on her.
"Patients should not have to worry about health care being affordable, especially in an emergency," said Collins. "The lecture in class the next day resonated with me, and that was the moment I realized I wanted to learn more about public health and health policy."
Collins decided to change her educational plan so that she could gain a better understanding of health policy and healthcare systems. During her time at the university, she received a scholarship to attend the CSU Health Policy Conference in Sacramento. Her experience at the conference influenced her decision to pursue a master's degree with a specialization in health law from UC Hastings. 
Today, Collins works as a policy associate at the Public Health Institute in the Center for Connected Health Policy (CCHP). CCHP researches and analyzes important telehealth policy issues and provides key telehealth policy resources nationwide. Collins tracks current and pending telehealth legislation in 50 states. As a result of her dedication to public health and advocacy, she was awarded the 40 Under 40 award from Cal State East Bay in 2021. And, just recently, she joined the Board of Directors of Cal State East Bay's Alumni Association.
Collins attributes a great deal of her success to the faculty of the Department of Public Health, and they continue to be great mentors and an inspiration to her.
Because of her positive experiences, Collins decided to support future students by creating the Veronica Collins Endowed Scholarship in Public Health, the very first endowed scholarship to benefit the public health department at Cal State East Bay.
"Often students, particularly those from underserved communities, have to make a difficult choice between their education and economic necessities," said Dr. Arnab Mukherjea, chair of the department. "Scholarships such as this one allows the opportunity for some of our diverse students to focus more fully on their academics and professional development, allowing them to become agents of change for the health of populations they represent in advancing an agenda of health and social equity."
The scholarship will be awarded to an undergraduate student who majors in health policy.
"There is policy in every aspect of public health, and policies impact change. Being a scholarship recipient provided me with amazing opportunities. I know how life-changing they can be," said Collins. "It is my hope that this scholarship inspires the recipient to pursue a meaningful career in public health. I am confident that the student receiving the scholarship will connect the area of public health they are interested in to the policies associated with it. It is my hope that the scholarship recipient will become a public health changemaker."