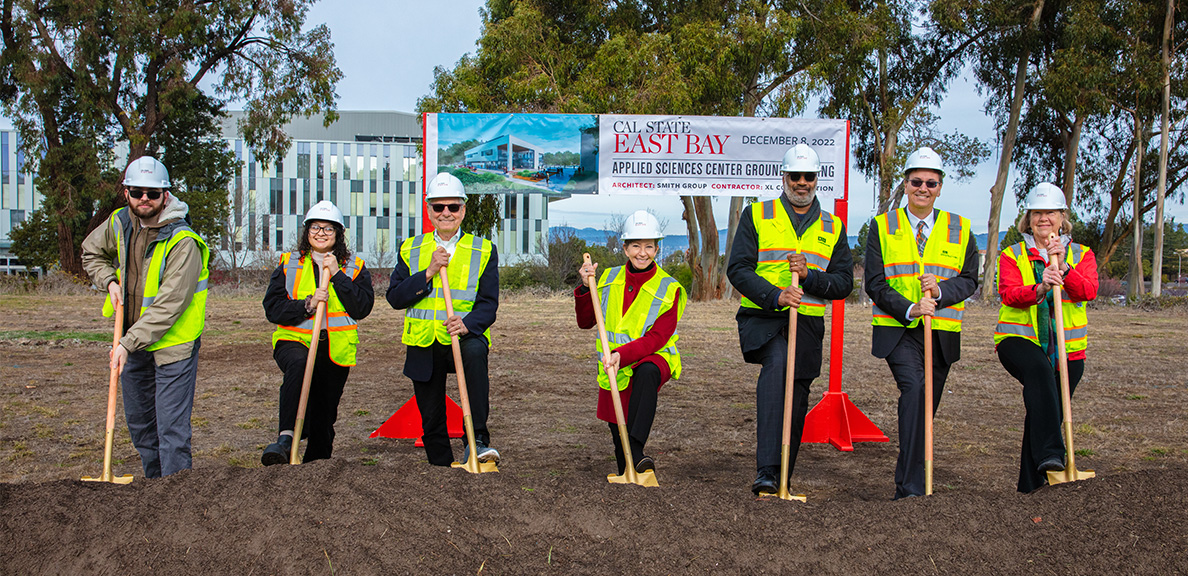 Construction Begins for Applied Sciences Center
BY Cal State East Bay
PHOTOGRAPHY BY Garvin Tso
December 9, 2022
Cal State East Bay has broken ground on its newest building, the Applied Sciences Center, beginning construction on a 22,000-square-foot state-of-the-art facility. The facility is entirely funded by private support, including a $15 million challenge grant from a regional foundation, and gifts from alumni and East Bay business leaders.  
The university expects the Applied Sciences Center to help meet students' interests and regional employment needs. 
"Some of our fastest growing majors are in the sciences because that is where jobs are and will be," said Sandeen. "The East Bay is known for innovation and this university has a vital role in developing talented and creative employees who come from and stay in the East Bay. Our generous donors have made an investment in our students and faculty. But more than that, they have made an investment in this region."
Alumni and community leaders came forward to support the project, including: Robert Braddock, Randall and Patricia Davis, Patrick Devine, Evelyn Dilsaver, Cheryl Keemar, Cherrie Nanniga, Marvin and Susan Remmich, the Nancy P. and Richard K. Robbins Family Foundation, and Richard Sherratt.  
The Applied Sciences Center will address the learning style that is at the heart of many of the university's majors.
"Programming in the Applied Sciences Center will focus on high-impact practices that have outgrown the current science buildings," said Jason Singley, dean of the College of Science. "These programs span our students' academic careers, from support for first-year courses in the STEM Lab, innovative classrooms that fosters active learning, to labs for student-faculty research. The Applied Sciences Center will be home to the Green Biome Institute, interdisciplinary research labs for Biology and Biochemistry, Engineering and Computer Science, and a visualization and collaborative research space for all disciplines."
The layout includes: 
Cutting-edge research labs will house student and faculty teams working on research to ensure students leave Cal State East Bay with in-demand skills. These labs will be dedicated to: 

The new Green Biome Institute, focusing on the genomic profiling of California's endangered plants. 

Biotechnology, with students receiving an excellent education in molecular biology and bioinformatics and extensive experience with next-generation sequencers. 

Interdisciplinary research in computer science and computer engineering.

Technology Collaboration Center, a student-faculty research space, which will support interdisciplinary research into the applications of new technologies. The Center will be computationally focused with collaborative space, enhanced with visualization technologies.

STEM Lab will support students as they move through their introductory science classes. Cal State East Bay's pilot program, using advanced students to coach those in lower division coursework, showed a significant leap in passing rates for gateway courses, helping to close the achievement gap for students of color. This lab will allow for the expansion of this program.

Flexible Learning with classroom spaces — functioning more like team offices — allowing students dedicated space for their work and for team collaboration. Externally focused projects to build the STEM pipeline among high school and middle school students will use these spaces as well, inspiring young people to study science and ultimately join the Bay Area STEM workforce.
"Advanced teaching and learning is already happening in the College of Science and the three other colleges at Cal State East Bay," said Vice President for Academic Affairs and Provost Walt Jacobs. "We are ecstatic to have a new building that gives students and faculty the science hub that they deserve."  
About the Applied Sciences Center
Construction dates: Dec. 2022 to 2024
Size: Two-story 22,165-square-foot building, expected to be net-zero energy 
Location: East of the North Science Building, Hayward Campus 
Architect: The Smith Group
General contractor: XL Construction