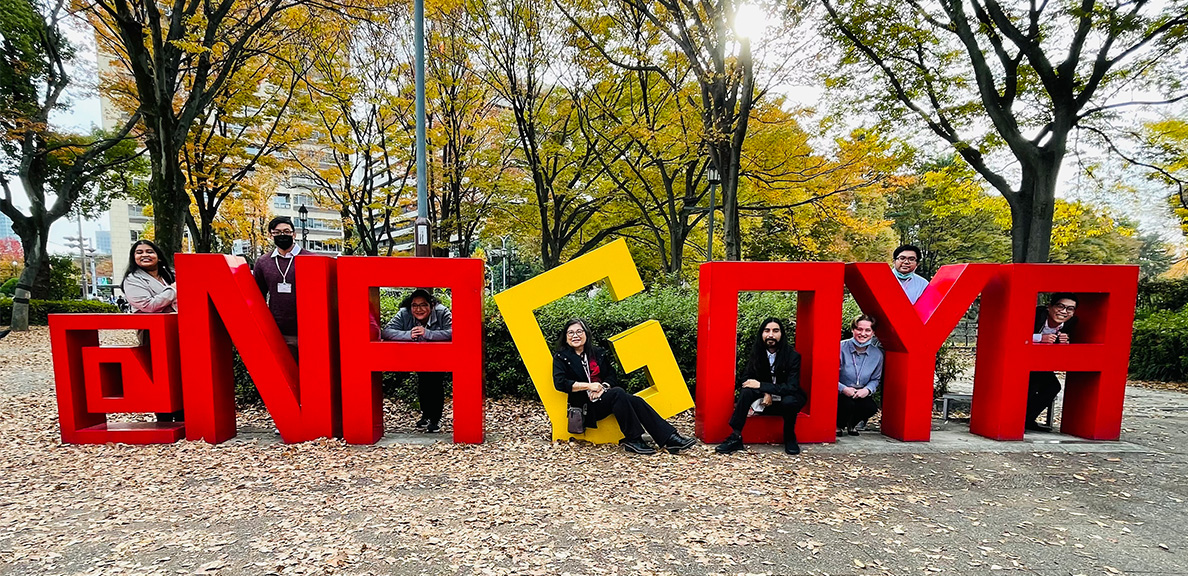 Japan Friendship Ties Program
BY Cal State East Bay
December 8, 2022
For seven Cal State East Bay students, this fall's coursework included a trip to a castle, a trendy international neighborhood, and a street filled with Samurai swords, fresh rice crackers and a 1,600-year-old temple.  Their adventure, which was part of the Kakehashi Japan Friendship Ties exchange program sponsored by Japan's Ministry for Foreign Affairs, gave insight into Japanese culture, history, society, technology and language. 
Martin Agsaulio, an economics student who joined the trip, had long awaited the visit.
"I genuinely wanted to go to Japan and learn more about the culture firsthand," he said. "So when Hoke-sensei sent us an email about this program, saying that there was a chance for us to go to Japan and learn more about Japanese culture (this was during the pandemic when we were all in Zoom), I did not hesitate and applied."
The exchange program enhanced students' educational experience through in-person and hands-on international experiences where they used their language skills and observed and participated with Japan's culture, education and government. 
College of Letters, Arts and Social Sciences Dean Wendy Ng joined the Japan Friendship Ties Program delegation on their visit to Japan in November. 
"This experience furthers their cultural competency in understanding how Japan is situated as a key economic, technological and cultural partner in the world," she said. "Students who have an international educational experience can use these in their future careers, whether it is in business, technology, game development, writing or teaching." 
The Japanese word "kakehashi" means bridge, symbolizing the hope that students will form lasting relationships with Japan and its people and serve as bridges between nations and cultures. Students who joined the Japan Study Tour with the Kakehashi program included:
Martin Agsaulio, Economics
Kadyn Brown, Liberal Studies
Vicente Delgado, Art, Interaction and Game Design
Jady Gamez, Business, Entrepreneurship
Klefy Kochuman, Business, Management
Sarah Mejia, English, Creative Writing
AJ Lising, Computer Science
The students traveled to Tokyo and Nagoya, visited with Chukyo University students (Nagoya) and spent an afternoon with host families and students touring Nagoya. They also met other college students from Marshall University (West Virginia), University of Wisconsin and the University of Guam. They toured the Japanese National Diet (national government building), Meiji Jingu shrine, the Tokoname Pottery Footpath, INAX Pottery Museum, the Toyota Commemorative Museum of Industry and Technology, Nagoya Castle, and the popular neighborhoods of Asakusa, Harajuku and Akihabara.
The ongoing exchange program is run by the Japan International Cooperation Center (JICE) along with the Ministry of Foreign Affairs and the Japan International Cooperation Agency (JICA). For more information visit www.jice.org/en/index.html.