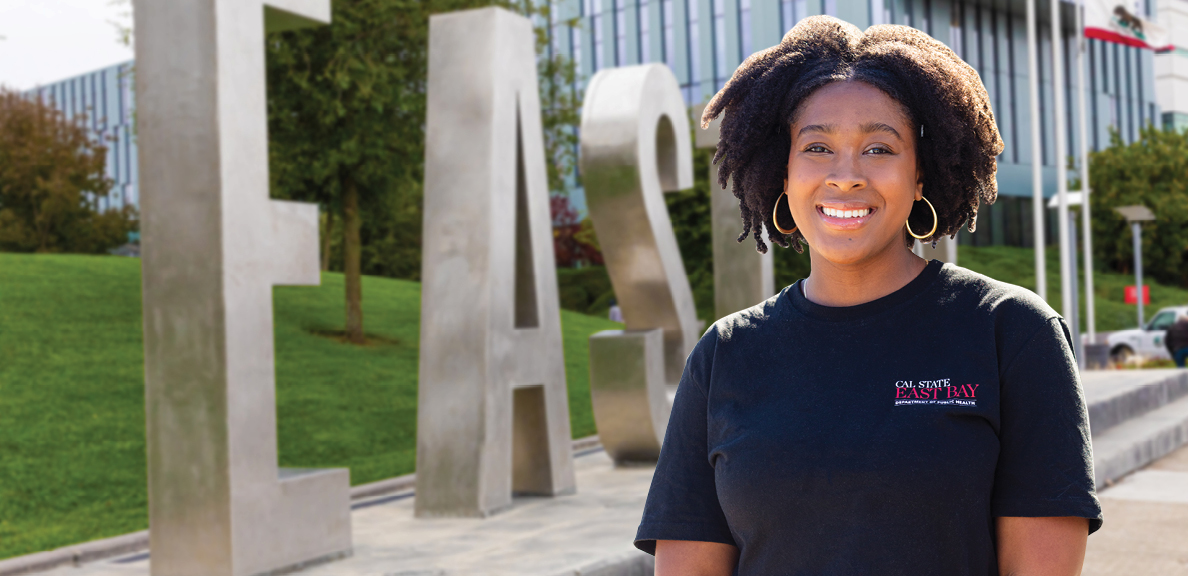 Cal State East Bay Student Awarded Obama-Chesky Scholarship for Public Service Scholarship
BY Cal State East Bay
PHOTOGRAPHY BY Garvin Tso
January 18, 2023
Cal State East Bay student Karrington Hendrix has been selected as an inaugural Voyager Scholarship, Obama-Chesky Scholarship for Public Service Scholarship recipient. Awarded to 100 college juniors, the $100 million "Voyager Scholarship" supports college students pursuing careers in public service. The inaugural cohort represents 35 states and 70 colleges and universities. They are an inspiring group of young people eager to bridge political and socioeconomic, and cultural divides and make positive changes in their community.
Hendrix transferred to Cal State East Bay from Diablo Valley College and noted, "I love the diversity at Cal State East Bay. It was a streamlined process for me to move from the community college to the university." With the assistance of her Cal State East Bay academic leadership and the support of the Voyager Scholarship, Hendrix has a clear vision and action plan for her future. 
Thanks to the Obama Foundation and Airbnb, Voyager Scholars will receive academic scholarships, travel stipends, summer Airbnb housing, and access to a network of leaders. All of this support will allow students greater freedom to pursue opportunities in public service.  
"I want to support students of color with their mental health and how we think about mental health as a nation. If BIPOC high school students had more people of color who could advocate for them, they would feel more supported," said Hendrix. She has already started working towards achieving these goals through her volunteer work at the Berkeley Free Clinic as a peer counselor. 
The scholarship also includes support for a self-designed Summer Voyage: students pursue a summer work-travel experience between their junior and senior year of college to gain exposure to new communities and experience in a chosen field. For her Summer Voyage, Hendrix said, "I want to partner with local schools in Oakland to build an advocacy program to support the mental health of high school students, especially students of color." She also wants to visit other schools across the country to become familiar with different perspectives. 
After graduation, Airbnb will provide Voyager Scholars with a travel credit every year for ten  years to continue broadening their horizons for the foreseeable future. Graduates will also be able to join the Obama Foundation's global community, providing them with Foundation resources and programming. 
Arnab Mukherjea, chair of Cal State East Bay's Department of Public Health, said, "With our university's commitment to social justice, Karrington's ability to secure this fellowship truly exemplifies the ability and impact of our university to train, develop, and mentor diverse change agents who will create a more just world through public service. Although I am proud of the accomplishments of all our students who reach the highest of goals, this one stands out as one that we can all be proud of and call Karrington a Pioneer." 
This scholarship is beneficial and meaningful for more than just Hendrix. Mukherjea said, "It gives her a strong and visible platform for her to advocate for equity in health with high-level decision-makers who share her value system and desire for social impact. It also creates a visible pipeline for all of Cal State East Bay that the highest echelons of opportunity are within their grasp when students see one of their 'own' achieving such profound accomplishments."