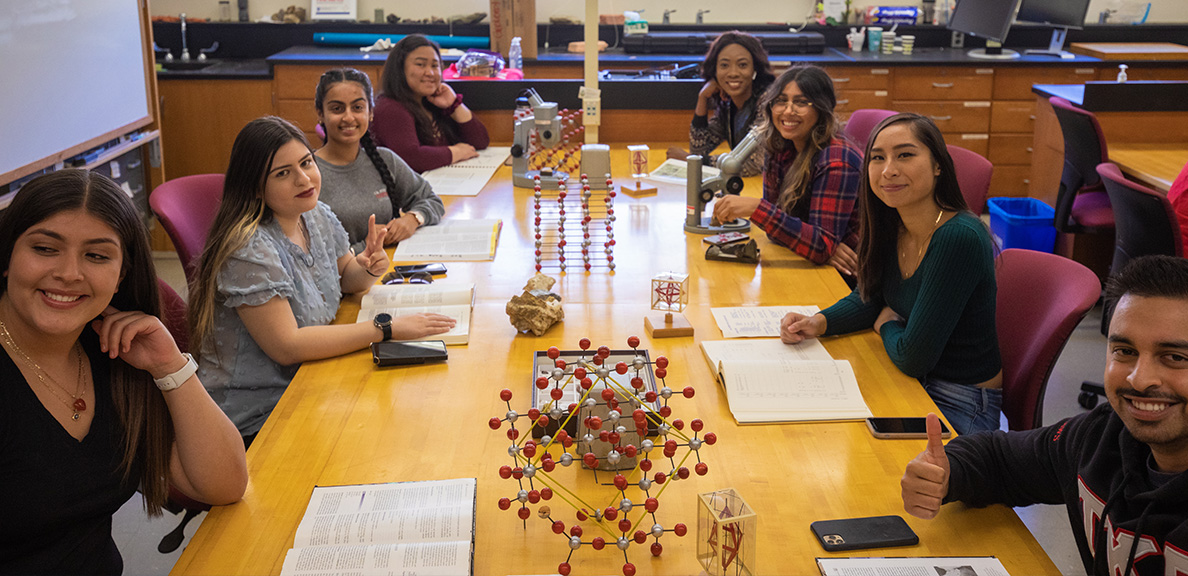 HHMI Grant gives undergraduate students in STEM a boost
BY Cal State East Bay
February 17, 2023
Cal State East Bay is among 104 schools taking on a challenge to substantially and sustainably build capacity for student belonging, especially for those historically excluded from the sciences. The six-year grant, part of Howard Hughes Medical Institute's Inclusive Excellence 3 Initiative (IE3), will be used to enhance undergraduate science education. 
"We are very excited to be part of this collaborative effort with HHMI and our partnering institutions," said Thomas Jenkinson, Cal State East Bay assistant professor of biological sciences. "This new funding will allow us here at Cal State East Bay to be much more creative with our commitment to supporting our STEM students and reducing attrition from science majors. We are already experimenting with new courses to build a supportive community among incoming STEM majors, and we have plans to expand our instructor training around inclusive teaching practices and anti-racist pedagogy. We're very much looking forward to working with our network of HHMI-funded campuses over the following several years to incorporate new ways of promoting a welcoming learning environment for all of our STEM students."
Each of the schools chosen picked one of three broad challenges to address. Cal State East Bay will be looking to answer the question, "How can we make the content of the introductory science experience more inclusive?"
The challenges were carefully selected to help the schools focus on designing strategies to prevent the massive loss of talent from STEM that occurs during the college years. More than half of the nearly one million students who enter college annually intending to study STEM will not complete a STEM bachelor's degree. Those who leave STEM are disproportionately students who are the first in their families to attend college, students who begin at community colleges and students from historically excluded ethnic and racial groups.
"Sustaining advances in diversity and inclusion requires a scientific culture that is centered on equity," said Blanton Tolbert, HHMI's vice president of science leadership and culture. "In science education, increasing the number of individuals from underrepresented backgrounds must go hand in hand with creating inclusive learning environments in which everyone can thrive."
Participants in the IE3 initiative have been divided into seven Learning Community Clusters, or LCCs, with each LCC comprising approximately 15 schools. The schools in each LLC will collectively design experiments and engage in regular sharing of what they are learning from the experiments. 
Additionally, instead of each school operating independently and reporting its progress to HHMI, the 104 IE3 schools are reporting to one another, collectively creating an annual reflection of what transpired in the previous year. 
"The College of Science is thrilled to work with other HHMI-funded universities to build capacity, access and success for underserved students in STEM," said Julie Glass, associate dean of the College of Science. "The college is committed to creating inclusive learning opportunities that help us to attract, support, and retain students who may not otherwise have chosen a STEM pathway. This grant is strongly in line with the college's focus on welcoming and retaining students from historically under-represented groups. Through efforts like this Inclusive Excellence Initiative, the college is working to help students build belonging, reveal their potential, and forge a pathway to a successful STEM career."
The hope is that this collaborative approach will become an important model for organizations interested in catalyzing institutional change with respect to diversity and inclusion.