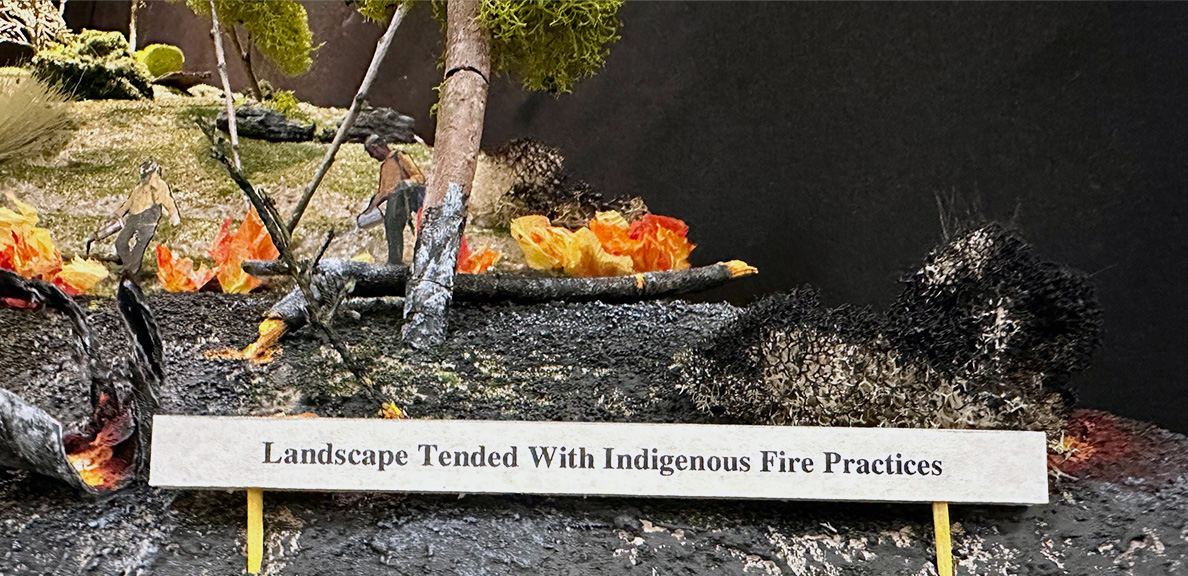 From Fear To Respect: How Indigenous People Use Fire
BY Diego Torres
PHOTOGRAPHY BY Garvin Tso
March 20, 2023
On Jan. 30, the C.E. Smith Museum of Anthropology at Cal State East Bay opened "Fire Without Fear: Restoring Indigenous Burning in California." The exhibit was developed by students in the course, Museum Studies Anthropology (ANTH 377), and explores the relationship Indigenous people have with fire in California. Many people have come to dread the wildfire season in the state because of the devastation it causes — lives lost, homes destroyed, dangerous air quality and impacted natural resources. "Fire Without Fear" explores why intentionally-set fires are necessary, and even essential, to humanity, especially for Indigenous groups such as Ohlone peoples in the East Bay. 
C.E. Smith Museum of Anthropology
Free Admission and Open to the Public
Open: Mon - Fri 11:00 a.m. - 5:00 p.m.
Closed: March 27 - 31, 2023
"Cal State East Bay can learn from Indigenous burning and land relations to develop new positive relationships with fire and the land that are not based in fear or hubris, but respect, reciprocity and responsibility,"  said Tony Marks-Block, the museum's guest curator and assistant professor of anthropology, geography and environmental studies. "By learning about the ecological and social benefits of Indigenous burning, perhaps communities will be more open to expanding Indigenous burning and land stewardship in our communities' parks and non-urbanized areas."
The exhibit shows visitors how cultural fires and their effects are woven into the lives and customs of Indigenous people. One of the most impressive displays, "Burning for Baskets," is made up of authentic baby cradles and baskets created from burnt California hazelnut stems. These treasures are used for food gathering, storage, and ceremony, among other things.
The exhibit also contains a "tree cookie" that was once part of a Jeffrey pine tree from the Plumas National Forest. A tree cookie is a section from a tree trunk that reveals the many layers and growth rings that make up a tree. This pine tree cookie shows the tree's age and strength after surviving many low-intensity fires preceding colonialism. More information can be found on the Fire Dendrochronology and Chronology website that accompanies the exhibit, created by Cal State East Bay student Kimberly Contreras. 
"As California moves away from fire suppression policies it is necessary to support Indigenous self-determination in fire planning and management," said Marks-Block. "Colonialism transformed Indigenous livelihoods and ecology and instilled fear of fire in the vast majority. This perspective contributes to the destructive wildfires we have seen recently. Hopefully, this exhibit introduces the campus community to other perspectives marginalized due to racism and colonialism."
Dr. Tony Marks-Block will be teaching a course titled Fire Ecology and Management (ANTH/GEOG 375) in Fall 2023, and students will have the opportunity to attend field trips. The Museum Studies Anthropology (ANTH 377) course will also be offered in Fall 2023.