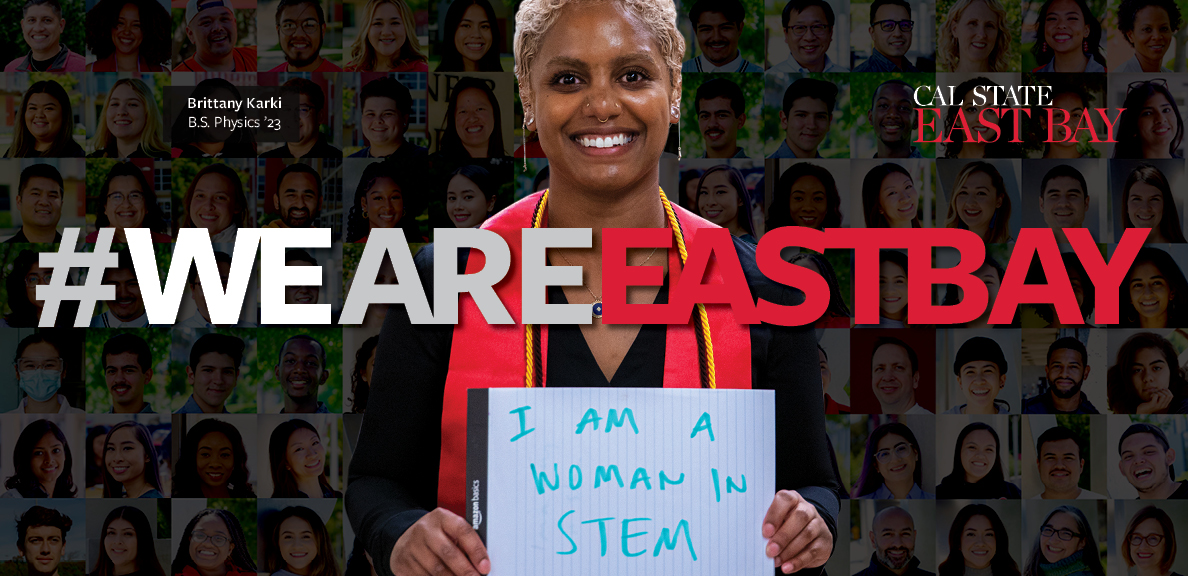 Making Sense out of Nonsense: How One Graduating Senior Learned the Law of Physics on the Road Less Traveled
BY Kimberly Hawkins
PHOTOGRAPHY BY Garvin Tso
May 10, 2023
When Brittany Karki was growing up in the Oakland Public School system, she bought into the notion that kids like her go to school, graduate and get a job. So, when she got her diploma from Oakland High in 2009, she went to work as a warehouse operator and then as a hairstylist. However, between the long shifts and demands of everyday life, Karki was able to take science classes at community colleges. The subject always interested her because she grew up inspired by PBS's Bill Nye the Science Guy. 
"Everyone tells me this stuff is really hard and this is way out of my field," said Karki. "But I figured if I fail, I fail, but how will I know if I could actually do it if I didn't try?"
In 2020, Karki transferred to Cal State East Bay. She is graduating this spring with a bachelor of science in physics and has been accepted into seven Ph.D. programs at universities across the country. 
"My hard work, persistence, my passion — it got me somewhere," said Karki. "It's exciting. Cal State East Bay helped me so much. The school is very diverse, but our department is so small, which I love. We joke because Dr. [Derek Jackson] Kimball's homework is so hard that his office hours become our hang-out time because everyone is trying to figure it out. It's fun."
Karki remembers more days than not, sitting in lecture halls trying to make sense of what she could not. 
"I would think, 'Is today the day that I drop the class?'" said Karki. "But when I would study the notes, go through the textbook, go through the example problems line by line and slowly, I would start to make sense of it — bit by bit."
All of these tiny moments of patience and learning that physics is about problem-solving helped her to keep going and it is what continues to motivate her today. 
"You can always keep asking why, and there's usually always more explanation, and even when there is not, that's also an exciting point because I really want to do research," said Karki. "Within physics, there is always more to do, more to see, more to explore. Particle wave duality of photons — what does that even mean? I've been studying that, and I still feel like it doesn't really make sense, but it's so freaking cool that I want to keep exploring and studying that — all the things that photons can do."
During her time at Cal State East Bay, Karki traveled to Paris for a summer internship. It was the first time she has been out of the country and her inner doubt started creeping back in. 
"I'm sitting on the plane and thinking my life is a mess," said Karki. "I don't know what I'm doing. I just met my peer group from big-name institutions. I'm literally 10 and 11 years older than all of them. I was like afraid."
Karki said she was intimidated until she realized that she did the same work, asked the same questions as her peers and had as much right to be there as any of them. 
Of all the sciences in the U.S., physics has the lowest representation of women. According to African American Women in Physics, only 150 Black women in the U.S. have earned their doctorates in physics, are current graduate students in physics, or have worked in the field. 
"It makes me sad," said Karki. "Where are we? I really wish I saw faces that look like mine."
Just as Karki looked for faces that resembled hers, she is certain that in coming years, others will be doing the same and she hopes to be an example for them — to show the value of the journey, regardless of its winding pathways and naysayers.
"Education is inaccessible to my community, the community I came from," said Karki. "I want to help people. I remember so many young people who had an interest in science just like me and it's still just so far away from them."
This summer before heading to the University of Illinois for the Ph.D. program, Karki will be camping with other Cal State East Bay physics students to study dark matter in an experiment led by Professor Derek Jackson Kimball. 
"Brittany totally embodies the spirit of our physics community at Cal State East Bay," said Kimball. "She is such a shining example to her fellow students and so inspiring to everyone who knows her. She told me that from an early age, she had always loved untying knots and always volunteered to help others untie them if she had the chance. This is a great metaphor for Brittany's approach to physics — she is always happy to dig into challenging problems and really enjoys the process of figuring them out, no matter how long it takes."