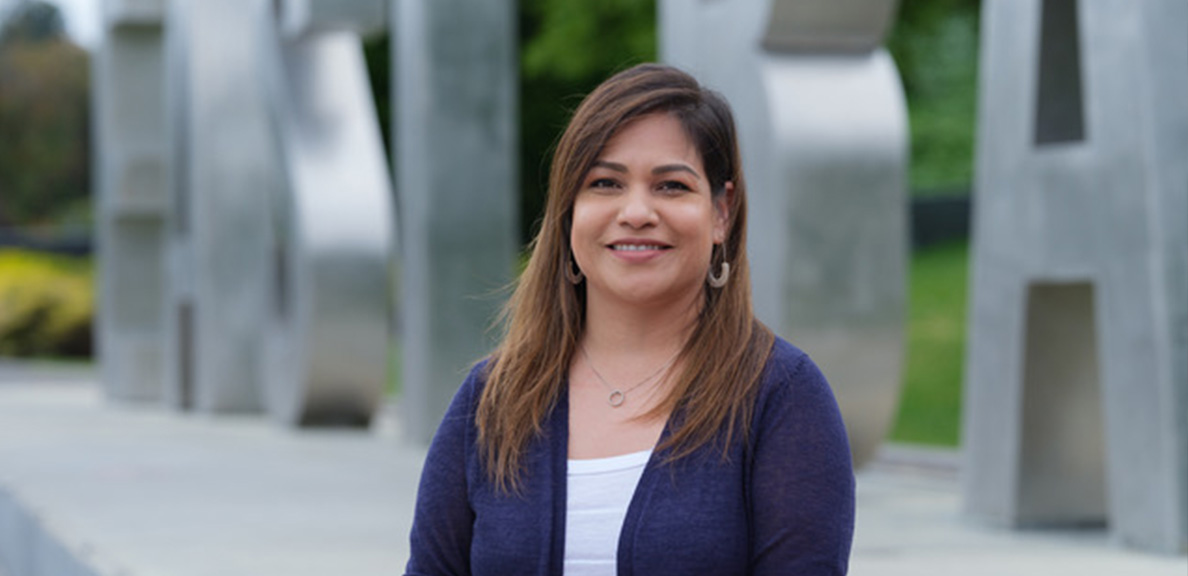 From Kidnap Survivor to Cal State East Bay Scholar: Monica Chicas, '24, Is the Recipient of the 2023 CSU Trustees' Award for Outstanding Achievement
BY Ben Soriano
PHOTOGRAPHY BY Garvin Tso
September 12, 2023
Cal State East Bay undergraduate student, Monica Chicas, class of '24, has been awarded the prestigious 2023 CSU Trustees' Award for Outstanding Achievement.
This award is granted annually to one student from each of the 23 California State University campuses. It is the highest student distinction within the university.
"The life stories of these extraordinary students who have triumphed over personal hardships to stand among the university system's most distinguished scholars are a testament to the transformative power of public higher education," said CSU Interim Chancellor Jolene Koester. "The CSU Trustees' Award for Outstanding Achievement is given each year to students who demonstrate superior academic performance, personal accomplishments, community service and financial need. This year's class of inspiring awardees will receive more than $180,000 dollars in scholarships collectively."
Chicas is the recipient of the William Randolph Hearst Scholarship. Her life story exemplifies triumphs over hardships, as her journey from El Salvador to the CSUEB community is one of perseverance, faith in herself and her dream and unflagging hope for a better future for herself and her family.
In 2006, after surviving a kidnapping and carjacking at gunpoint, and with growing concern for the safety of her months-old baby, Chicas made the hard decision to flee with her newborn son, leaving her mother, father and sibling in order to seek refuge in the United States as a 24-year-old single mother.
She found support from the local Latine immigrant community, who steered her toward whatever jobs were available throughout the Bay Area. At times she labored, among many other things, as a house cleaner, a restaurant worker, a caregiver to the infirmed and elderly, and a door-to-door saleswoman lugging vacuums from one house to the next.
Exhausted from working multiple menial jobs over a six-year period to provide for her son, she decided to maximize the opportunities in the U.S. and earn a college degree. But she was met with resistance from her community who felt she was taking irresponsible risks as an immigrant single mother, and, surprisingly, from the colleges themselves.
Twice she attempted to enroll at two community colleges and each time she ran into what she was told were barriers to enrollment concerning legal residency qualifications, minimum placement score requirements, eligibility for financial aid and opportunities for daycare.
Undeterred, she visited a third community college after three years of trying and met a sympathetic counselor who was shocked by what Chicas had shared concerning her enrollment obstacles.
The counselor revealed that Chicas had been misinformed: none of the barriers that kept her from enrolling actually existed. She had been eligible to enroll all along.
The counselor then sat and walked her through the steps to enroll, seek financial aid and lay out a plan to complete her general education.
With limited time and resources, and a child to raise, Chicas committed herself to a single class per semester, or two classes when life made it possible. Some semesters she would pause her studies for work obligations or just out of exhaustion. But she always managed to re-enroll.
In the end, it took everything she could muster to complete her GE requirements, and after a decade of classes she graduated from Contra Costa Community College earlier this year. Chicas was now eligible to transfer to a four-year university to complete her undergraduate requirements.
For Chicas, the easiest decision was choosing Cal State East Bay's University Extension in Concord for its convenience and location. "[T]hey had business classes at Concord campus. It was closer for me."
Last spring, at the age of 42 and despite much resistance from folks around her who insisted she was "too old for school," she joined the Pioneer community and is now closer than ever to achieving her dream of a college degree.
Chicas is majoring in Business Administration with a concentration in Accounting. Today, she manages a course load of six classes while working for the adult education program at the Contra Costa County jail. She hopes to complete her undergraduate requirements by the end of this fall semester in order to graduate next spring and begin her career journey.
Meanwhile, her son has grown up and is following in her footsteps. This fall, he is a first-year student at UC Berkeley.
"I want to break the mentality that immigrants are here only to work one job, two jobs," she said. "Immigrants shouldn't have to believe that it's better and safer to just work. But they can also go to college and make a better life."
Upon graduation, she hopes to get more hands-on experience in accounting, and get a job counseling and advising other immigrant women on how to succeed in their new country.