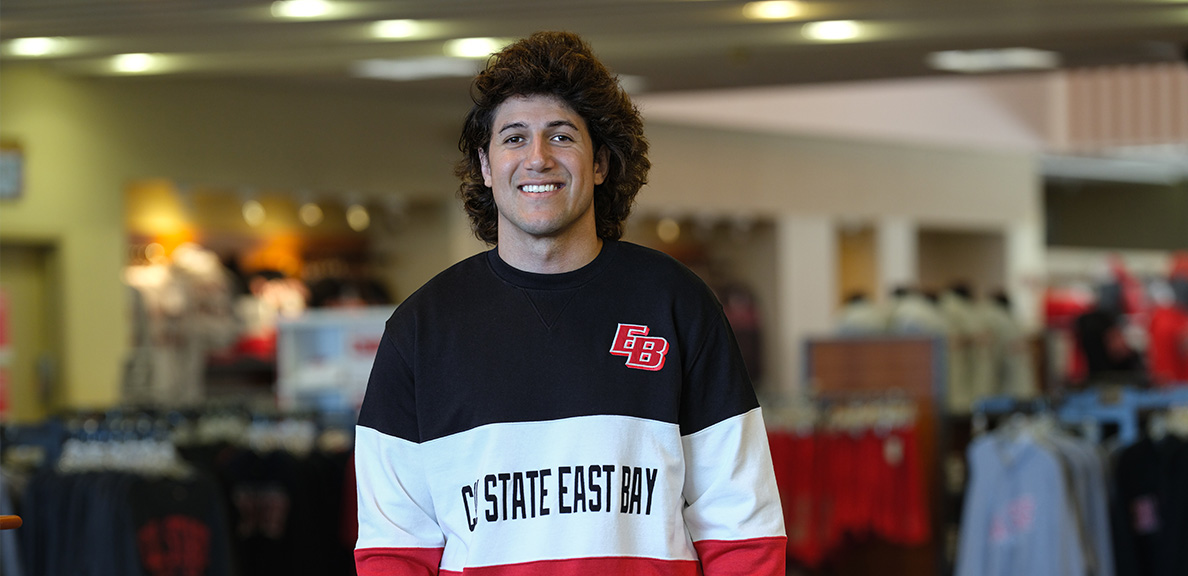 How One CSUEB Student is Rebounding to Reach His Full Potential
BY Sarah Harris
PHOTOGRAPHY BY Garvin Tso
September 11, 2023
For many of those formerly incarcerated, living in the present without being weighed down by the past isn't easy. Kyle McCray is determined to use his lived experience as fuel for his journey — present and future. The Cal State East Bay sophomore is making a name for himself. He is a standout among those who know him.
McCray describes himself as loved and loving. The chemistry major is a beloved part of the campus community with active involvement in Project Rebound, a program for formerly incarcerated students seeking to succeed in the California State University system. Critical resources provided by Project Rebound help students avoid re-incarceration and achieve their academic goals in a supportive environment. 
"Kyle McCray is a fantastic Project Rebounder!" said Eileen Barrett, professor emerita of English and former executive director of Project Rebound. According to Barrett, McCray jumped into meetings and events as soon as he learned about the program last spring. He has also helped recruit and welcome other students to the program. Spreading the word and fostering a caring community is crucial work as the CSUEB chapter was only established last year. 
"Kyle is a resilient student who shines brightest under pressure. I'm thankful that Kyle is a part of Project Rebound," said Melvin Calaway, the Project Rebound coordinator for CSUEB. McCray expressed his gratitude for Calaway and Barrett being there for him both academically and personally. Project Rebound helped him achieve his goals thanks to the mentorship and mental health support that has been provided. 
Barrett added, "Kyle is fully engaged in his courses and eager to give back to the campus and the Bay Area community. Intellectually curious and kind, Kyle is always thinking of others and how he can help expand Project Rebound." In addition to Project Rebound, McCray is part of Feeding Faith on campus, which is an open space for students to share their faith and enjoy a free dinner sponsored by Catholic Club.
McCray's dedication to helping others reach their full potential shines through when talking about his favorite class at CSUEB, College Algebra taught by Assistant Math Professor Ryan Moruzzi. "​​The deterrent of math can stop people from attempting and reaching their educational goals. With teachers and professors such as him, who try their best to have you succeed, math can be your favorite class," said McCray.
"The advice I have for CSUEB students is to get in where you fit in. Whether you have a parade of friends or not, join a club, go to events. College is a great time and it's selfish not to share it," McCray said. "The safe space and community of CSUEB are a gift!"
McCray plans to attend graduate school after finishing CSUEB and was recently accepted into the McNair Scholars Program, which aims to prepare historically underrepresented scholars for entrance into graduate school. He is determined to become a research scientist and work to cure arthritis, a disease that has affected his mother for years.