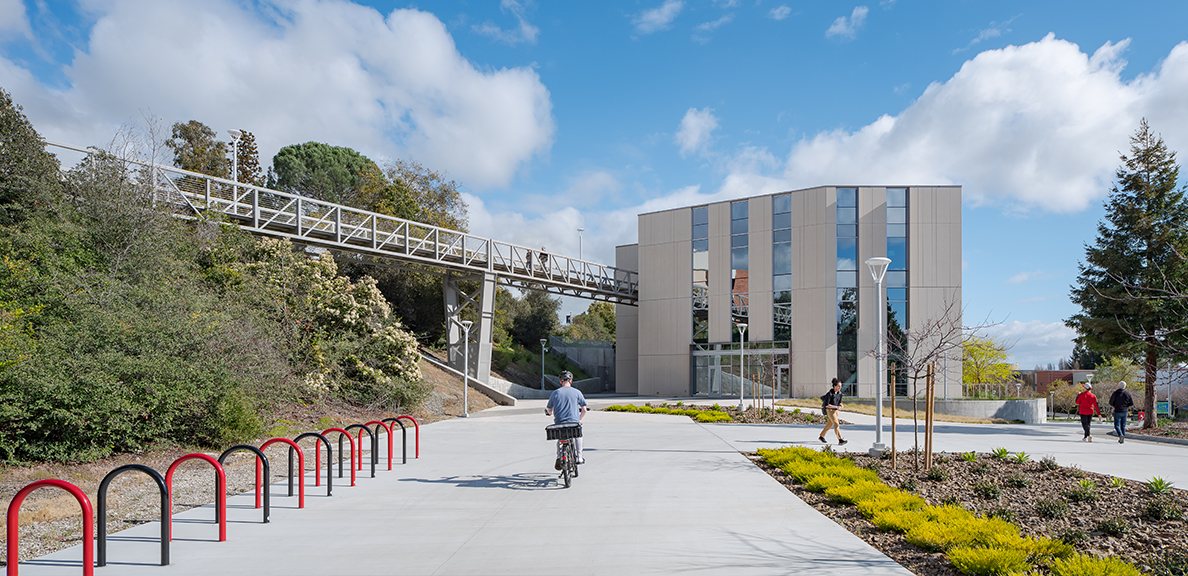 The CORE Building Shows How East Bay LEED's the Way in Campus Sustainability
BY Sam Balderas
October 5, 2023
The CORE Library, Cal State East Bay's newest building, is a testament to the university's commitment to green energy. Thanks to its sustainable and innovative design, the CORE building has been awarded the Gold Leadership in Energy and Environmental Design (LEED) certification from the U.S. Green Building Council (USGBC). It joins the Student and Faculty Support Building as LEED-certified buildings on the Cal State East Bay campus. It is the second LEED certification for any building at Cal State East Bay, after the SF Building's Platinum rating. 
"The LEED program reviews areas related to climate change, water resources, biodiversity, impact to the community and natural resources and factoring in all critical elements that work together to create the best building possible for the environment," said Sharon Chen-Batemen, Project Manager for the CORE building's construction. It is buildings that meet these standards, such as the CORE, that earn a Gold ranking. A Gold ranking also means the CORE Building exceeds the required California Green Building Code requirement. 
The CORE building includes study rooms available for rent, rooms for presentation practice as well as classrooms containing some of the newest technology, and if needed, there is accessible technology available through the accessibility office. Tutoring is available at the Student Center for Academic Achievement (SCAA). 
There are also many books available to check out, both from the university's own collections and those loaned from other California universities. The second floor is a quiet floor —perfect for using the first class style seats with your own personal outlets and storage space. If there is any technology a student needs, they can rent it at the library with their Bay Card. The services are not restricted to academics, as the library has a meditation room and family playroom. 
The CORE library's LEED certification is just one of the ways the Hayward campus is becoming more green. Next on the list of green projects for the CORE is to add solar panels to the roof. As our new library's first birthday comes and goes, East Bay will continue to make it a beacon of growth and sustainability on campus.