Nonprofit Management Student Celebrates One-Year Anniversary of Being Cancer Free, Credits Certificate Program for Providing 'Support Network'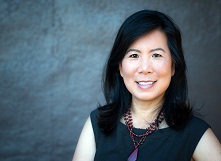 Margaret Huang
In the summer of 2016, Margaret Huang was diagnosed with breast cancer. She began treatment and several months later quit her job as a business development officer at Playworks, a Bay Area-based nonprofit that promotes physical activity for children. The life she was accustomed to came to a halt.
After a courageous battle and support from family and friends, Huang was able to cast her illness into remission and recently celebrated her one-year anniversary of being cancer free. Today, she is a student of Cal State East Bay's Nonprofit Management Certificate Program, which she credits as being a major factor towards boosting her confidence and getting her career back on track.
"The classmates and faculty I've met are really diverse and mission-driven individuals that have made this a very positive experience," said Huang about the program. "Sharing my story with classmates and instructors has been really healing for me, so I've gotten an education as well as a support network within my classes."
The Nonprofit Management Program provides insight into the evolving aspects of nonprofit management, including board development, financial management, fundraising, marketing, program evaluation and nonprofit law. Throughout the eight-course program, students gain the skills necessary to carry out their mission and support their cause in the most effective ways.
As a resident of Oakland, Huang said attending classes is convenient. She walks 20 minutes from her home to Cal State East Bay's Oakland Center where the Nonprofit Management Program's courses are taught. Courses are held in the evening and several during the weekend, which Huang said is an advantage for her with a family to attend to and for her classmates who work full time.
Huang is currently on a committee for the East Bay Asian Local Development Corporation, an Oakland nonprofit that focuses on improving neighborhoods across the East Bay. She said she feels the certificate program has helped her become a stronger board member, where she dedicates her time providing affordable housing for low-income residents. With her health back on track, Huang said she looks forward to earning her certificate in the spring and eventually operating her own mission-based organization.
"Some of my classmates have already landed jobs," said Huang. "People should be aware of this affordable program that can accommodate everyone who is interested in the nonprofit world."
For more information about the program, visit the  Nonprofit Management Certificate website.