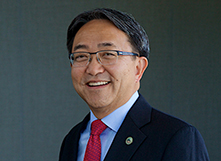 CSUEB president
Happy New Year and welcome back. We may be just starting the year and our final winter quarter before we convert to semesters, but there is already cause to celebrate.
Just before the holiday break, Cal State East Bay was notified that the university's Hayward Promise Neighborhood program was awarded a $29.8 million grant from the U.S. Department of Education. The grant is the second award for HPN from the department in the past six years, bringing the total funds received to $55 million. What a great way to kick off the New Year!
Serving more than 16,000 individuals in Hayward's Jackson Triangle, HPN is a partnership of residents, local schools, colleges, government agencies, businesses and nonprofit organizations working together to support the Hayward community. The collaboration works towards educational success and equity for some of Hayward's neediest families.
Since HPN programming began, both Cal State East Bay and Chabot College have seen marked increases in cumulative enrollment from Tennyson and Hayward high school graduates, in part due to HPN's "Promise Interns" — Cal State East Bay students who work as mentors and tutors in local schools. As a result of the program, Promise Interns have developed teamwork and communication skills and demonstrated a remarkable 14 percent higher graduation rate than their peers.
In addition to educational partnerships, HPN has collaborated with the Alameda County Community Food Bank to serve local residents. The Fresh Food for Families program regularly provides more than 350 families with an estimated 6,000 to 7,000 pounds of food per month. Several groups and individuals across campus, including the Cal State East Bay women's basketball team, nursing students and on-campus fraternities, have volunteered at the market, helping with everything from greeting residents to carrying their groceries to nearby doorsteps or vehicles.
Thanks to this grant, we will spend the next five years building on the success of the last five years, growing with the needs of our community and serving a vital role in ensuring the youth and families of Hayward have the tools they need to thrive.