Wedding Planner Certificate Graduate Oversees Global Employee Events for Adobe Systems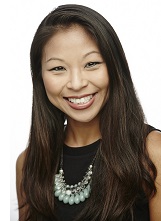 Helen Lau
There's nothing like attending a well-executed event. As a guest, we can appreciate the convenience of the location, the feel of the overall layout, the seamless sequence of events or speakers, and the array of tasty food and drinks, but can we ever truly understand what it takes to get an event to that point? Event planners know that the real magic of an event happens behind the scenes.The event itself is just the tip of the iceberg and the culmination of months of hard work and strategic planning.
Cal State East Bay Wedding Planner Certificate graduate Helen Lau can vouch for that. For the past 11 years, she's managed everything from weddings and company parties to large-scale civic and corporate events. Two years ago she became a Global Event Strategist at Adobe Systems where she curates and plans global internal programs and social events such as summer picnics, holiday parties, diversity and inclusion campaigns, family-focused events, field trips, internal summits, company celebrations and product launches.
"So much of event planning is learning on the job," said Lau. "Every event is different and has different challenges."
Being part of a planning team for a multinational software company inspires Lau to stay up-to-date with the latest trends and technology.
"We try to attend industry trade shows as well as tech related shows such as Dreamforce to stay current on fresh ideas," said Lau. "We also try to benchmark with our peers at other tech companies to share ideas as often as possible."
Lau also explains the significance of keeping an eye out for new concepts, technologies and service providers in order to add the "cool factor" to events.
"We love experiences and elements that are unexpected and encourage people to capture and share on social media," said Lau.
Before landing her dream job, Lau's career was on a different path. She began her career in 2005 as a business analyst in corporate retail after obtaining a BA in mass communications from the University of California, Berkeley. After a year and a half, she became tired of her job and decided to transition into a field she felt more suited for.
"I was miserable and realized [retail business] wasn't the job or industry for me," said Lau. "I've always enjoyed putting on events and had some experience from events I was involved in during college for various organizations, so I researched local classes and came across [CSUEB's Wedding Planner] program."
During the summer after completing the program, Lau got her feet wet by volunteering in a handful of weddings with course instructor Joyce Scardina Becker. They kept in touch and Scardina Becker regularly sent Lau job openings. Lau quickly landed a production assistant position with Innovative Entertainment, a talent booking agency for special events where she had the opportunity to book, coordinate and produce entertainment for many kind of events, including weddings.
Afterwards, Lau became a project manager for Hartmann Studios, an event rental, design and production firm. For six years she produced various civic and corporate events, including large-scale events with technology companies such as Oracle and coordinating several San Francisco Giants World Series parades.
When asked about her experience in the Wedding Planner Certificate program, Lau applauds the teacher-student interaction and how it helped her flourish in  her career.
"[CSUEB's Wedding Planner] program was fantastic in that it gave me a good grasp on event basics, everything from contracts to industry jargon," said Lau. "The opportunity to volunteer alongside Joyce's team was invaluable."
Since 2003, CSUEB's Wedding Planner Certificate program has been the only course of its kind offered on a university campus. Taught by event planning expert and industry veteran Scardina Becker, the program covers all aspects of wedding and event planning including researching, designing, producing and evaluating, all while staying informed with current trends. Students also get the opportunity to volunteer in various types of events.
For more information, visit the
Wedding Planner Certificate Program website
.