Technical Writing Certificate Helps Science Advocate Land The Best Job She's Ever Had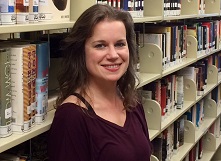 Holly Auten
Every day, Holly Auten sits at her work desk and begins to brainstorm. She's on a constant mission to present to the world the latest scientific and technological discoveries her research facility uncovers. As part of Lawrence Livermore National Laboratory's communication team, Auten extensively pens articles about a wide range of topics, including physics, film preservation, optics and youth science outreach. There's never a dull moment at work.
Her favorite project is an ongoing assignment for the Lab's magazine, Science & Technology Review, where she gets to collaborate with her writing team to accurately report the sciences and  showcase the best of the Lab's accomplishments.
"Seeing a professional print magazine with my story on the cover is a 'pinch me, I must be dreaming' moment," said Auten.
For more than 60 years, the Lab has applied science and technology to deliver solutions for the nation's most challenging security problems.
Auten is passionate about her job and takes her role as a technical writer and editor very seriously. She says the responsibility of being the bridge between the scientific community and the layperson is what makes her excited to go to work every day and brandish her skills.
The skills she refers to are the ones she refined in CSUEB's Technical Writing Certificate Program, a self-paced online program where students learn how to enhance their writing abilities to a professional level.
"The program helped me study fundamental written communication and learn to clarify my thoughts better when writing," said Auten. "It brought into focus things I had known but had never really coalesced in my mind."
The program  covers diverse topics, such as the differences between academic and technical writing, how to consider the needs and abilities of an audience, clarity and utility, and various media and formats ranging from instructions and proposals to websites and emails.
Auten says joining the certificate program offered the perfect work/life balance. She didn't need to drive to campus to get a thorough education and the program's flexibility didn't interfere with her full-time job. Auten enjoyed the variety of assignments the program offers, and the beneficial feedback she regularly received from the course instructor encouraged her to keep persisting.
"Receiving helpful feedback from the instructor made me realize I am capable of doing the course work, and I'm now putting those principles into action," said Auten.
Completing the program in 2016, it was a challenge for Auten to return to school since earning a master's degree in literature 15 years prior. She had project management experience and was working in business consulting for several years when she decided to change her career path and go back to her first love: writing.
"I was so far along in my career that if I wanted to shift gears then I would need validation," said Auten. "I knew I would be more hirable if I had a certification than if I didn't."
Sure enough, Auten was hired at the Lab soon after completing the certificate program, writing short articles at first and ultimately being promoted to longer feature stories. She credits her Technical Writing Certificate as a primary reason she was considered for the position, and says she's very proud of what she does.
"Earning the certification was part of my effort to change careers," said Auten. "Having a technical writing certification on top of my previous education and work experience helped me land the best job I've ever had."