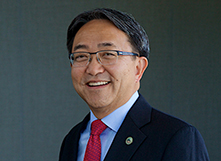 At Cal State East Bay, we strive to create a student experience that builds on the strengths of our diverse student population. In the classroom, the Pioneer student experience is characterized by lively discussions, respecting differences and unique perspectives. In the College of Science, interdisciplinary learning is one way we prepare our students for real-world problem-solving in STEM careers. With the opening of the Hayward campus' newly renovated, state-of-the-art molecular research and environmental analysis labs, there is no better place for our students to develop these skills.
The new labs are set in an intentionally-designed 5,500 square foot space with modern cutting-edge technology, allowing us to offer more collaborative, hands-on learning opportunities. The university's newest and largest renovation of research and teaching space will help our top-notch faculty better prepare both undergraduate and graduate students for careers in science.
Both labs are designed to allow students and professors from various disciplines to work alongside one another to better exchange ideas, solve complex problems and expand faculty research. In doing so, our students will learn to work in teams with people from different backgrounds and skill sets.
For years, our university has offered students unique experiential learning opportunities. No longer is it enough to simply absorb the material found in books and provided in lectures — today, students must learn how to put theories and abstract concepts into practice to solve real-world problems. The new research labs will help facilitate that important work and allow Cal State East Bay increased opportunities and access in STEM fields to our ever-growing, diverse student body.
My hope is the labs will be an inclusive and welcoming space for our students to learn new experimental techniques and make discoveries.