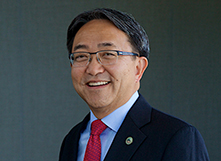 At Cal State East Bay, we are creating opportunities for our students to overcome the odds. According to recent reports, achieving the American Dream has become more difficult from year to year. The Equality of Opportunity Project found that a child's likelihood of out-earning their parents has fallen 40 percent in the last century. According to a study published in U.S. News & World Report, a four-year degree can nearly double the lifetime earnings of a high school graduate. With our focus on teaching and student-centered education, Cal State East Bay is leading the charge in social mobility and is ranked in the top 2 percent of universities nationwide, according to the ranking website College.net. 
The proof is in our students and our alumni.
One example is senior Rehan Siddique, a recipient of both the CSU Trustee's Award for Outstanding Achievement and Cal State East Bay's Presidential Scholarship. As a child and young man, Rehan was raised by a single mother and caught up in the street gangs in Oakland. But this spring he graduates — the first in his family to do so — and plans to continue his education in a physician's assistant program.
Upon arriving in the United States with her family from Vietnam, Mindy Tong struggled with English and making connections in the community. In 2008, while juggling coursework at Cal State East Bay to complete her bachelor's degree in biological sciences, Mindy became a single mother. Looking to connect with and assist others in a similar situation, she began a campus support group for single parents and ultimately graduated with honors. Mindy now lives in Louisiana with her husband and two children and is attending medical school.
Students such as Mindy and Rehan are part of the reason why our faculty choose to teach at Cal State East Bay. Our professors care deeply about working with and assisting students who have the most to gain from a hands-on college education. Support from staff and faculty are critical to helping our students reach their goals and beyond. Rehan and Mindy are shining Pioneers who reflect the benefits of a Cal State East Bay education.