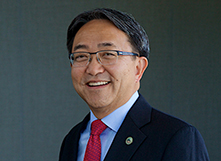 I hope that everyone is enjoying the spring weather, now that it is finally here. On campus, you may notice middle school students visiting Cal State East Bay as part of our STEM Education Classroom. The Hands-On Science Teaching Labs, or HOST labs, provides undergraduate students the chance to work with underserved middle-school students. For many of our young visitors, this marks their first time stepping onto a college campus. Cal State East Bay undergraduates teach the middle-schoolers science lessons, thus accomplishing two important goals: engaging the students in experiential lessons in science and introducing our students to potential careers in science education.
Since 2014, the HOST Labs have trained our students to lead dynamic experiments and lessons in subjects such as astronomy, the atmosphere, water and geology. Undergraduates work directly with the middle schoolers, leading them through engaging activities. 
Research indicates adolescents begin disengaging from STEM subjects in middle school when science learning becomes less hands-on. Thanks to the HOST Labs, the students who engage in the program have told us they feel excited about and reconnected to science after participating. Importantly, teachers have reported almost one-third of their students improved their quality of reasoning after being part of the program.
In addition to building the skills and confidence of underserved middle schoolers, the HOST Labs are creating an avenue for our students to teach science as a career — something they may have never considered before taking this course. Cal State East Bay students see that teaching science is a rewarding career path and one that directly elevates young students and local schools — potentially helping address California's STEM teacher shortage.
By fostering an interest in science education in our students, we are helping to inspire the region's next generation of budding scientists.