From Ballerina to Director of Operations: Nonprofit Management Graduate Shares Her Experience as Oakland Ballet Company's Director of Operations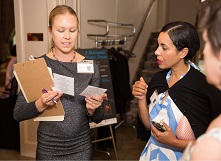 Leah Curran (left) is Oakland Ballet Company's director of operations.
It's a sold-out Saturday night at Oakland's Paramount Theater. Tonight's performance is a presentation of Alexandre Dumas' "The Nutcracker." The audience waits in their seats under dim lighting for the show to begin. Dancers are in position behind the curtain as the orchestra is cued to commence. The room finally darkens. Suddenly, the music begins to play softly, and a single spotlight hits the stage. The curtain rises and reveals the dancers in their starting position before they take their first step. This is what the audience has been waiting for. At last, it's showtime.
This elaborate production, from beginning to end, has taken months to develop, and it certainly could not have happened without Leah Curran, Oakland Ballet Company's director of operations. For the past eight years, Curran has worked extensively to make sure every major OBC performance is pulled off without a hitch. She dedicates her positive energy to bringing the art of dance to the East Bay.  
"I love my job," said Curran. "Everyday is different at work. There's no such thing as an 'average' day."
Curran's long list of responsibilities at the OBC is nothing short of impressive. A portion of her duties include fundraising, writing contracts and grants, collaborating with the lighting and costume designers, contacting donors, working with the stage manager and projecting ticket sale numbers as well as calculating their price and selling them. She also hires dancers and stays in contact with them throughout rehearsals, even going the extra step of making sure they have each been provided proper dance shoes.  
In addition to her already busy schedule, Curran is in charge of OBC's marketing. In March, Cal State East Bay's Social Media Marketing Program helped her strategize OBC's social media campaign for a summer dance camp.
A ballerina since the age of 11, Curran's decades of involvement in the dance world has provided her with the know-how to operate behind the scenes at OBC. She realized she was a natural born dancer when she began practicing ballet in the small North Dakota town where she grew up. Curran eventually moved to Montana for college and earned a B.A. in Dance Performance and a B.S. in Finance.
In 2007, Curran relocated to Oakland to work in finance. Shortly after, she switched to a nonprofit career in order to use her experience and business skills to help the arts and be part of the dance world in a meaningful way, she says.
"I began my current job when I was 28 years old," said Curran. "I was young and I didn't have much experience in the job world, let alone helping to run a company. It's a big job for someone very young in their career. My lack of experience was a challenge, but I learned a lot as time went on."
The OBC is a nonprofit performing arts organization. Since its founding in 1965, the OBC's mission has been to provide accessible, relevant and exciting dance for the East Bay's diverse community. Along with dance performances, the OBC hosts educational programs, training academies and weekly classes, which Curran also has a hand in.
The OBC also provides free performances at Bay Area elementary schools, exposing approximately 20,000 students per year to the art of dance, Curran said.
"The school shows are always some of my favorites," said Curran. "It's lots of fun watching the kids enjoy our performances, and it's worth it when teachers give me positive feedback about how it impacts their students."
Several years after joining the OBC, a board of directors member recommended she enroll in Cal State East Bay's Nonprofit Management Certificate Program for further professional development. Curran said she's fortunate to have been a student in the program.
"The [program] offered great tips that have helped me along the way in my job," said Curran, who completed the program in 2017. "I learned the ins and outs of the nonprofit world. I learned how to manage money, how to track it and the best ways to work with donors."
When she's not at her office, Curran participates in contemporary dance on Saturdays with Dana Lawton Dance Company, a group of 12 men and women, aged 25 to 60 years old. She performs three or four times a year in small venues and festivals, and every once in a while gets the opportunity to show off her flexible artistry internationally. In summer 2015, Curran performed an hour-long show in Belfast, Ireland.
Back at the OBC office, the 35-year-old works part-time, where Edison, her one-year-old son, occasionally tags along.
"There are too many reasons why I love my job," said Curran. "I get to spend time with my son, and also, I know I'm working with an organization that is community-minded."