Dr. Renee Rubin Ross Recounts Successful First Year as Nonprofit Management Certificate Program Director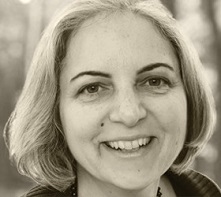 Dr. Renee Rubin Ross, director of CSUEB's Nonprofit Management Certificate Program.
In April 2017, when Kathy Ferber, the 25-year veteran director and founder of the Nonprofit Management Certificate Program asked Dr. Renee Rubin Ross to take over, Ross gladly accepted the honor. Since then, Ross says managing the program has been inspiring and refers to it as a "reasonably priced hidden jewel."
Ross comes from a background in education, researching communication between parents and schools and exploring how schools incorporate parents' financial investments. She also possesses experience in the nonprofit field, specializing in grant writing and board developing.
Currently, Ross teaches two courses in the Nonprofit Management Certificate Program. She also regularly meets with representatives of Bay Area organizations, schedules classes and oversees instructors. Ross says getting to know her diverse group of students is her favorite part about leading the program.
In the following interview, Ross shares how her first year as director has progressed, including how she's helped to promote the program, how it's changed her and future plans for the program.
How did you get to be Program Director?
It's a funny story. I do strategic planning, board development and grant writing for nonprofit organizations; I also have a background in education. I was interested in teaching the grant proposal writing course and a colleague connected me with Kathy Ferber, the previous Program Director, who founded the program 25 years ago. I visited Kathy's Board Development course to learn more about the program and the students. At the end of the class, Kathy said to me, "I'm looking to retire and wondered if you'd like to take over as Program Director." She caught me off guard! But when I thought about it, I realized it was a great match for my skills, interests, and experience.
What do you do as Program Director?
A main job has been raising the program's visibility. The program is a reasonably-priced "hidden jewel": The Downtown Oakland location is convenient; our instructors are top-notch nonprofit practitioners who get rave reviews and the content is strong and immediately gives students tools to do better work in the nonprofit sector. I've been putting the word out at the Hayward Nonprofit Alliance, the Oakland Chamber of Commerce Community Impact Committee, and other nonprofit networks so that more people learn about the program. I've also met with representatives of the East Bay Community Foundation, the Richmond Community Foundation and other funders and community and government organizations. In addition to marketing, I oversee instructors, schedule classes and handle instructor or student issues as appropriate.
I teach the Grant Proposal Writing course, and in the Fall Semester I'll teach Introduction to the Nonprofit Sector.
Are the marketing efforts working?
They are! Our course enrollments have roughly doubled over the past year. The student population has shifted too. Before, there were more students in transition who did not know much about the nonprofit sector. Now, the largest group are individuals who work in the nonprofit and government sector. Our current students bring in prior knowledge about the nonprofit sector and the quality of discussion in the courses has improved.  It's rewarding for instructors and students.
What's your favorite part of being Program Director?
Getting to know the students. They're a diverse group. In my recent grant writing course, one student was originally from Puerto Rico and another was working on grant for health care in her home country of Afghanistan. Our students bring great and varied life experiences. What unites them is their idealism and interest in working in nonprofit organizations to build a more just community and world. They inspire me!
Has being Program Director changed you?
I've always been interested in adult learning but I've thought about it more deeply over the past year. (Depending on the number of credits), our students spend ten or twenty hours on a course. How should we structure the learning experience so that our courses are as effective as possible? We provide tools and frameworks, then give students opportunities to immediately practice what they're learning. This is not lecture format…it is hands-on "playing" with knowledge about nonprofit management that students can use as soon as class ends.
In order to continue to strengthen the program and my own teaching, I have been studying best practices in adult learning. Now when I attend a workshop, I can quickly see what's effective and what isn't. Next month, I'm doing a presentation for a consultants' group on "Principles of Adult Learning for Creating Great Workshops, Presentations and Webinars." This is an area that I'm passionate about.
Your students are working adults, many of whom are doing the Nonprofit Certificate to advance in their careers. Any thoughts on how the program prepares them?
My own career has had twists and turns: I was an educator, then got my doctorate in education and worked as a researcher, then worked as a foundation program office, and now coach and support nonprofit executive directors and boards. A small percentage of people know "what they want to be when they grow up" at an early age but for most of us, it's an iterative process; we try different roles and work settings and see what fits. Continuing to learn and grow is energizing.
Doing a program such as the Nonprofit Management Certificate makes our students more marketable and opens up their options. For individuals who currently work in nonprofits, they learn frameworks that help them understand how the different parts of the work at their organization fit together. For example, someone might be the office manager at a nonprofit; by taking the Fundraising course, she sees how her work building a culture of supporting the organization contributes to the organization's fundraising efforts.
Also, our instructors are networked in to the nonprofit community. When students are job hunting, I've encouraged them to reach out to our instructors for connections and ideas.
Do you have some bigger ideas for the program?
I'd like to see enrollment continue to grow. There are thousands of individuals in the East Bay who work in nonprofit organizations or serve on boards who could benefit from our courses.
Given the diversity of our students and our area, I would like to add a course on Equity and Inclusion in the Nonprofit Sector. This is a huge issue for the nonprofit sector and one that we should be talking about more.
I'd like the program to serve as a resource and center to support the East Bay nonprofit community by sponsoring community events to bring people together.
Thank you! And congratulations on a successful first year.
You're welcome, it's an honor to work for Cal State University East Bay with a terrific group of instructors and students.