CareerBOOST Provides Pioneer Job Seekers with Workshops and Mentors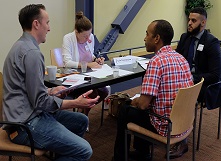 Career experts offered guidance to Cal State East Bay alumni during the third annual CareerBOOST.
"The likelihood that you're going to have to change your career is much higher than it used to be," said Human Resource Management Certificate Program Instructor Carol Moore. "People aren't staying at their jobs like they used to, and it can be hard to find a new one, so getting all the help you can get is important."
Throughout her nine years of  experience as a Cal State East Bay Continuing Education instructor, Moore has gathered a great deal of information about job hunting and career changing. Her vast knowledge and advice was shared with over 80 attendees when she presented the keynote address on July 14 during this year's CareerBOOST, an event catered to recent CSUEB graduates and alumni who seek to begin or change careers.
Currently in its third year, CareerBOOST provides information, resources and one-on-one mentorship to attendees who need assistance in regards to pursuing their ideal careers. During this year's four-hour event, graduates had the opportunity to sit and talk privately with career experts at numerous tables in the New University Union on the Hayward campus. They learned a wide range of useful tips, including personal branding, resume writing and interviewing skills and practice.
During the event, four workshops were held simultaneously, each one with its own unique topic of career guidance.
Human Resource Management Certificate Program Instructor Evelyn Moorman administered one of the workshops, titled 3 Tier Formula for Successful Career Change. Her workshop was aimed towards those who wanted to change careers, where her role was to educate, encourage and edify, she says. During her two-hour workshop, Moorman informed graduates of the different stages of career changing, describing and discussing the concepts with examples while providing resources such as credible websites for further information.
Moorman says CareerBOOST exposes attendees to opportunities that would otherwise take months or even years to learn about, such as gaining insight and seeing the realities of a specific workplace.
"CareerBOOST is important because today there is so much information people don't know where to start," said Moorman. "This event provides a platform for graduates to have the courage to go beyond. When people talk to professionals who have already done it, it helps them gain courage, and it's a big leap of help."
After the event, Moore heard positive feedback from colleagues about the event. She also has advice for those who couldn't attend and are thinking of starting a career or wanting to work in a different area.
"If you want to begin a new career, find out what jobs are out there and which ones appeal to you," said Moore. "Approach someone who works at a job you're interested in and ask them about how they feel about their job, what kind of tasks they do and how they got their job. Showing interest in a job can lead to job offers. I've seen it happen."