Strengthening California's Future Through Literacy: How a CSUEB graduate student is committed to being a literacy leader in a kindergarten classroom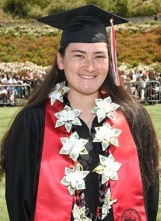 Hayward Kindergarten Teacher and graduate student Jennifer Morita is a literacy leader.
On a rainy morning at Harder Elementary School in Hayward, 26 kids run into Ms. Morita's kindergarten class eager to learn, standing under their umbrellas as they splash the ground in their rain boots. They take off their raincoats and hang them to dry on small hooks before putting their lunch boxes away in their designated cubbies. As soon as the young students are settled at their desks, Ms. Morita instructs them to take out their journals and practice their writing. 
Within moments, the five and six-year-olds jot uppercase and lowercase letters into their journals and scribble short words eligible enough to read. 
Every student in this class learned their reading and writing skills from Ms. Morita.
In her classroom she's known as Ms. Morita. Outside the classroom she's Jennifer Morita, full-time kindergarten teacher and Online Master of Science Reading and Literacy Program student.
"When I was in kindergarten I wasn't learning how to write yet!," said 24-year-old Morita. "I first saw kindergarteners reading last year and it's surprising how well they do."
Morita, who graduates in spring 2020, is one of more than 11,000 California kindergarten teachers committed to teaching kids early stage reading and writing. Since 2010, the California Common Core State Standards of education has strived for all kindergarteners to be able to demonstrate knowledge of the alphabet, identify and pronounce uncomplicated written words and have the ability to write short sentences, among other reading and writing skills. 
Morita also teaches her students about the days of the week, calendars and counting, but she said the reading and writing portion is what interests her the most. One of her teaching strategies involves pasting words onto a wall and having her students rearrange them to make sentences and write them in their journals. 
"The expectation for kindergarten has changed," said Morita. "At the beginning of the school year they learned letter sounds and doing it over and over, but now we recently did a reading test and it was really amazing to sit with them and see the growth that each of them have made so far. It's exciting because it makes me think where they'll be when we do the same test at the end of the year."
Morita attributes the MSRL program in helping her identify students who have trouble reading, how to support them and in suggesting activities and several other ways to better assist those students. 
The fully-online graduate program is designed for working professionals who seek advanced training in literacy leadership and instruction. In one year, graduates of the program can become reading teachers, reading specialists, reading coaches, tutors, literacy program administrators or teacher assistants.
"The Masters program is fantastic," said Morita. "It's flexible and the professor is very understanding. For some of us in the program it's our first year teaching, so finding that balance of trying to do homework while also working is important."
After earning her teaching credential from Cal State East Bay in spring of 2019, Morita joined the MSRL Program in the summer of that year due to having firsthand experience with difficulty reading. In 5th grade she began having trouble focusing in school and comprehending things she read in class. Morita was diagnosed in 8th grade with attention deficit hyperactivity disorder, a disorder where people have difficulty concentrating and staying on one task. She was also diagnosed with dyslexia, a reading disorder where people have trouble paying attention to what they are reading. Morita struggles with those disabilities to this day. 
"Because of my disabilities I feel like I'm a lot more understanding of how hard it is and frustrating it is to try your best in school and still have nothing make sense," said Morita. "I feel like I'm a lot more sensitive, and I've learned to approach my students in a way that I would have appreciated when I was a kid."
Morita's disabilities haven't stopped her from pursuing her career or teaching others to read. She's wanted to be a teacher since she was in preschool, and Morita has made it her mission to be a positive influence by being a "literacy leader", who she believes is someone who fosters the growth of kids and adults and is devoted to nurturing and helping people who struggle in reading, writing and learning. 
A literacy leader can be someone like a reading coach, and according to Morita, every school can benefit from having one. Reading coaches, also known as literacy coaches, can teach struggling students one-on-one instruction or in small groups. Morita is not a reading coach but uses similar techniques in her kindergarten class.
"I want my students to know when things are hard or don't make sense, they don't have to give up or feel they aren't good enough, because they're not the only ones who struggle," said Morita. "Some kids struggle with reading and other kids pick it up fast, so finding ways to support and nurture each of them individually is what I focus on."
As a first-year teacher, Morita said she already has advice for others who are pursuing a career in teaching and an MS in Reading and Literacy. 
"Being a teacher so far is a lot of trial and error and coming up with incentives and rewards," said Morita. "But just like a student, don't be afraid to ask for help along the way."