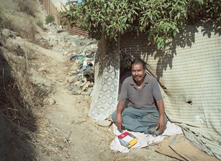 man sitting down on the ground
Check out Scott Hopkins' Web site, an online exhibition of photographs made along each side of the border between the United States and Mexico. He made many of the images during a fall sabbatical.
The ongoing project, titled "Photographing the Border Culture—Fotogarafía de la cultura Frontera," features images ranging from "Zigzag border fence" depicting a stretch of oxidizing metal fenceline winding through desert scrub brush and dry dunes to "Cross border dance at Friendship Park, Tijuana-San Ysidro" in which couples dance on opposite sides of a tall wire mesh fence.
"A lot of my work is where fine arts and political science meets," said Hopkins, who has taught photography at Cal State East Bay for seven years.
Look for further observations from Hopkins about the intersection of art and politics in the upcoming issue of Cal State East Bay Magazine in a story about a surprising treasure unearthed in the University Library's 25,000-piece special collections.