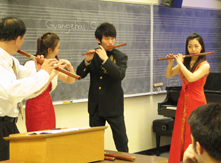 Assistant Dean and Music Professor Tao Geng of South China Normal University perform for music class.
Assistant Dean and Music Professor Tao Geng and three of his students — one graduate student and two undergraduates — from South China Normal University recently treated CSUEB music students to the sounds of the unique Chinese bamboo flute. The group had just taken First Prize in the flute category at the International Festival of Folk Music at CSU-Stanislaus.
This was the first visit to the East Bay campus by the students from the Guangzhou, Guandong, China university following the creation of a "2 + 2" partnership, in which Chinese students take their first two years of college at SCNU, and complete a music degree at CSUEB in the following two years.
Locally, Ray Wallace, executive director of international programs in continuing and international education, and Frank La Rocca, professor and then-chair of music, facilitated the collaboration. The SCNU School of Music, which just celebrated its 30 anniversary, has roughly 800 students at the bachelor's through graduate level studying western classical and Chinese folk music.