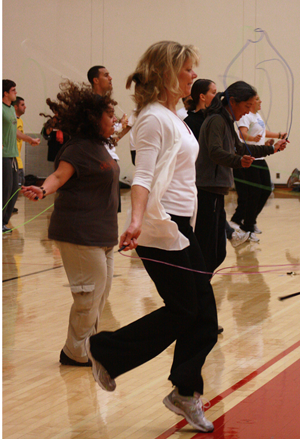 Jumping rope at the main gym on CSUEB's Hayward Campus.
On Feb. 1, members of the university community joined 85,000 other Californians taking part in a statewide endeavor to break the Guinness world record for the most people jumping or skipping rope at the same time. Between 9 and 9:10 a.m. they all started jumping, and kept it up for a minimum of 3 minutes, to break the previous record held by Australia at 59,000 jumpers.
"Jumping Over the Record from Down Under" was organized by the California Association for Health, Physical Education, Recreation and Dance who partnered with California Governor's Council on Physical Fitness and Sports and the American Heart Association Jump Rope for Heart. All participants donated $1 to the AHA, which will support research, educational and prevention programs.