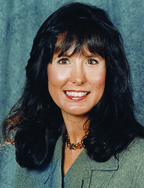 Gail Lorraine Lew
Congrats to 2009 music grad Gail Lorraine Lew for winning one of three Mary Harrington Outstanding University Thesis Awards.
The Castro Valley resident and piano teacher earned a master's degree in music history and literature.
Lew's thesis adviser, Peter K Marsh, assistant professor of music, says her thesis, A Historical Study of Leading Piano Pedagogues and Their Teaching Materials from 1950 to the Present, "goes far beyond the boundaries of the traditional master thesis. In tracing the history of how piano has been taught in the United States in the past five decades, we see a story of changes that have come to the field of teaching itself."
Lew's thesis is unique in that it offers a perspective of piano pedagogy and beginning piano methods in the second half of the 20th century, and deals with the direction these methods point to for the future of piano teaching in the 21st century. Lew has written a biographical and historical study that makes a major contribution to the field of piano pedagogy, according to Marsh.
Lew is the former director of keyboard publications for Warner Brothers Music and currently serves as New Music Reviewer for the California Music Teacher magazine, clinician for Frederick Harris Music Company, and adjunct professor of applied piano for Las Positas College. She conducts workshops in the United States and Canada, including presentations at the Music Teachers National Association Convention, many of its state affiliates, and the World Piano Pedagogy Conference.