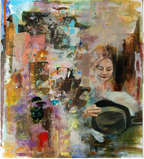 combination abstrate and representational art.
"Kodiak hat," an acrylic painting  by art Professor Grace Munakata, is included in  "Figure," a group show of work by 18 prominent Northern California  artists, through Feb. 27 at b. sakata garo, 923 20th St., Sacramento.
The piece weds abstraction with representational references to memories. 
A small silhouette comes from a black and white photo of her father when he was in his 20s, studying at the University of Washington in Seattle. Each summer he worked the salmon canning boats that went to Alaska – one of the few employment opportunities open to Asian Americans at the time.
The blurry photo intrigued Munakata  because her father's gesturing hand is ambiguous - neither a hail of recognition nor a farewell.
An Asian woman holding a hat in the foreground stands in for Grace Munakata, surrounded by abstract areas of light and dark textures suggesting the refractive quality of water.
Munakata is in her 23rd year teaching painting and drawing at CSUEB.