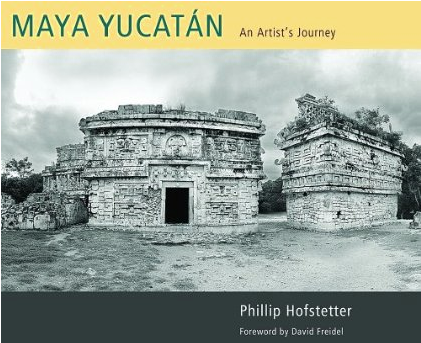 New art book takes an archaeologist's perspective.
Reviews are in, and the word is that Professor Phillip Hofstetter's new book, "Maya Yucatan: An Artist's Journey" is right on - a rare perspective that is both beautiful to look at, and a well crafted description of the collaborative process between artist and archeology scholar. 
"Phil tells true stories," writes David Freidel, professor of anthropology at Washington University St, Louis, in the foreword. "We are all used to having reporters  and journalists write about our work, and about us. Sometimes it is a bit painful to read when a writer gets a story wrong.. . . . (but) this book is the real deal, and fun to boot."
Hofstetter, chair of the art department, first visited Yucatan in 1987 - 12 years before joining the Cal State East Bay faculty. From the first, he was taken by the physical beauty of the region and the enduring character of the  Maya people living there - so much so that he has spent the ensuing years traveling back and forth, documenting it through images, and collaborating on several archaeological excavation projects.
Hofstetter is also a videographer whose work has appeared on National Geographic Television and the Discovery Channel.