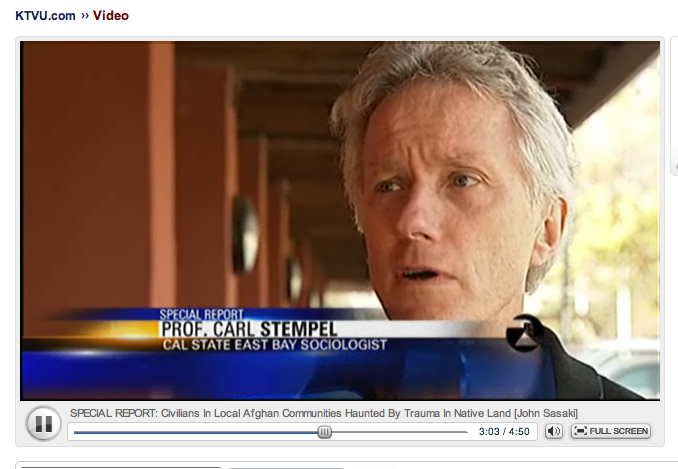 Carl Stempel on KTVU program
Sociology and Social Services Associate Professor Carl Stempel played a key role in getting a story about local Afghans coping with traumas from war, displacement, and resettlement on the KTVU 10 O'Clock news recently.
KTVU contacted Stempel after the New York Times mentioned his study on the medical, translation, and mental health needs of first-generation Afghan refugees in the large Afghan community located in the Hayward-Fremont area.
Nilofar Sami, a UC Berkeley doctoral student in clinical psychology, helped map the eventual story. Mizgon Zahir, a CSUEB grad, Ahmad Zamani, director of Afghan Care, Rona Popal, executive director of the Afghan Coalition, Farzana Nabi, CSUEB lecturer, and Valerie Smith, CSUEB lecturer, consulted on the project and were instrumental in locating people courageous and civic-minded enough to publicly discuss their personal struggles with post-traumatic stress. 
A copy of an initial report on the study is available from Stempel (e-mail carl.stempel@csueastbay.edu).