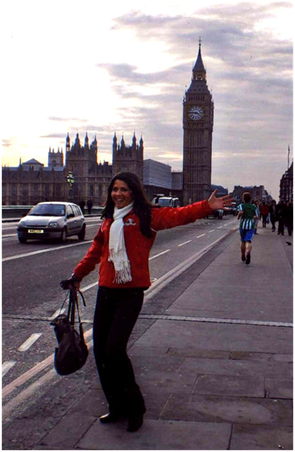 Discovery Bay Courtesy of Tasha Ghiggeri.
Recent Cal State East Bay Communications graduate Tasha Ghiggeri was featured in Discovery Bay Press.
She was one of several 49er Gold Rush cheerleaders selected to promote the largest Super Bowl party London, England has ever seen. As part of a mass-media tour to promote the big game, Ghiggeri did radio interviews and TV spots leading up to a Super Bowl party that took place in an arena the size of HP Pavilion in San Jose.
"We did three performances at Super Bash to get the crowd warmed up," Ghiggeri said. "American football has a cult following in England, so the energy was so intense in that room. NFL hasn't quite caught on over there, but the people who follow it absolutely love it. Because of the time difference, the game didn't even start until about 11:30 p.m., but they didn't care. Everyone was having a great time."
Ryan Seacrest and his multi-faceted career hosting TV shows and working in radio hold an appeal for Ghiggeri. She was a reporter for the show "Latin Eyes" on KRON4 for four years, where she traveled around the country conducting interviews, including chatting with celebrities such as Nelly Furtado and John Leguizamo.