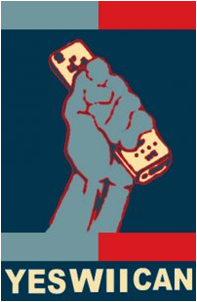 Yes Wii Can banner
A class project to create an event turned into a fundraising effort for Haiti called "Yes Wii Can!" CSUEB community members are encouraged to join a Nintendo Wii sports game tournament from noon to 3 p.m. March 4 in the University Union Multipurpose Room A.
"Involving the entire University community will show students that they too can make a difference," said Kaity McGrath, a senior hospitality management major at CSUEB who helped organize the event. "Beyond sending donations to Haiti, I hope that this event shows students that change starts with them."
Cal State East Bay's Red Carpet Club and the Hospitality, Recreation and Tourism Department's special event planning class organized the event along with the Department of Latin American Studies, the Model UN Club and the Ethnic Academic Society. Event planners also partnered with Citizen Effect, an organization that encourages people to involve philanthropy in their everyday lives, to help promote the event. Kate Mulder, philanthropist manager for Citizen Effect, will be the guest speaker, discussing Citizen Effect's philosophy and how received donations will affect those in Haiti.
A donation of $5 will allow participants to compete in the tournament and enjoy music and food. Additional fundraising will include raffling off two tickets to the Jay-Z concert on March 24 at the HP Pavilion in San Jose. Raffle tickets will cost $3 for one ticket or $5 for two tickets.