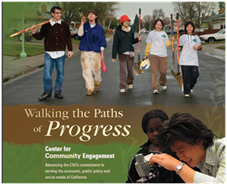 Paths to Progress event flyer
Join CSU faculty, staff, students, and community partners in Northern California on March 5 to explore how campuses and communities can equitably collaborate on research to address significant social issues in California and beyond, promote learning and development, and advance the creation and dissemination of knowledge.  In one-day, you will have the opportunity to engage in a series of high quality, participatory CBR workshops, dialogues and research forums.
The event for Northern California is scheduled from 10 a.m. to 7 p.m. March 5 at the Hotel Shattuck Plaza, 2086 Allston Way in Berkeley.
The definition of community-based research, adapted from the WK Kellogg Foundation Community Health Scholars Program, is a collaborative approach to research that involves all partners throughout the research process and recognizes the strengths that each brings. Community-based research begins with a research topic important to the community and aims to combine knowledge with action and to achieve social change.
Research topics may include community engagement, public policy and government research agendas, scholarships and social entrepreneurship projects. Anyone experienced in or interested in community-based research is invited to attend the conference.