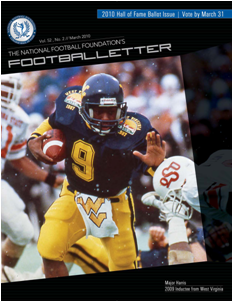 football player by: footballfoundation.org
The National Football Foundation (NFF) announced today the names of 77 players and seven coaches who comprise the 2010 Football Bowl Subdivision Ballot for induction into the College Football Hall of Fame. On the list is Darryl Rogers who served as Cal State Hayward head coach in 1965.
After Hayward, Rogers coached Fresno State (1966-72), San Jose State (1973-75), Michigan State (1976-79),  and Arizona State (1980-84). According to the ballot, he "took Fresno State to two bowl games. Achieved an unprecedented national ranking at San Jose State. Was Big Ten Coach of the Year in 1977 and National Coach of the Year by Sporting News in 1977. Won the Big Ten title in 1978."
Ballots were mailed this week to more than 12,000 NFF members and current Hall of Famers. The new Hall of Fame Class will be announced live May 27th.