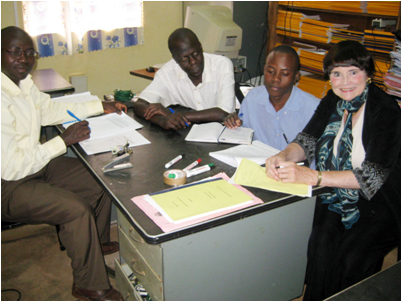 Dr. Doris Duncan in Kampala, Uganda with representatives from Kyambogo University and Logel Project. by: Doris Duncan.
Doris Duncan, CSUEB Professor of Computer Information Systems and Accounting, received a Certificate of Completion for her participation in the Fulbright specialist program in Uganda.
Duncan worked with Kyambogo University and Logel Project, Ltd., a Kampala, Uganda-based technology company to develop a methodology for evaluating engineering and information technology student projects as a way to determine those with the best opportunity for commercialization.
In an interview with the Foster City Islander, Duncan said, "This was an experience of a lifetime and highly recommended! I now have a deeper appreciation of the working conditions and hardships in developing countries and feel better prepared to work with a broad spectrum of people in a diverse environment. The Fulbright program is a wonderful way to serve as a catalyst for achieving world peace and economic growth one person at a time."
Duncan recently presented her poster on "Information Technology Needs Assessment for Ugandan University and Incubator Technology Company: A Fulbright Senior Specialist Project" at the Cal State East Bay Faculty Poster Exhibit held on March 10.
--Kimberly Legocki