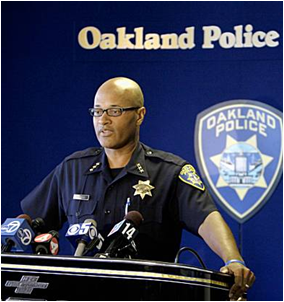 Howard Jordan
Assistant Chief of Police for Oakland and CSUEB alumnus Howard Jordan will be interviewed by American Heroes Radio on March 25 about what has been described as the deadliest occurrence in the history of the Oakland Police Department (OPD). Jordan saw the department through the difficult hours of March 21, 2009, when parolee Lovelle Mixon fatally shot motorcycle Officer John Hege and Sgt. Mark Dunakin before killing SWAT Sgts. Ervin Romans and Daniel Sakai.
Jordan, who earned a Master's in Public Administration from Cal State East Bay, ordered an independent review be conducted to understand how this happened and what can be done to prevent a future recurrence. He manages services and activities in the Bureau of Field Operations, Bureau of Investigations and the Bureau of Services for OPD. Jordan establishes appropriate service and staffing levels and allocates resources on a day-to-day basis.
American Heroes Radio provides a platform for the lives, stories and accomplishments of American Heroes. Each week a different member of military, law enforcement, firefighting and emergency services are guests. Episode No. 103: "Officers Down – Oakland" will air on March 25, 2010.
--Kimberly Legocki