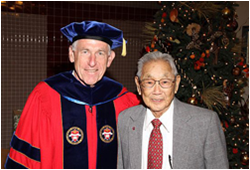 John Hiroshi Otomo Receives an Honorary Degree from CSU Fresno
In 1942, an estimated 250 Japanese American students were forcibly removed from CSU campuses and relocated to internment camps, under federal Executive Order 9066.
In September 2009, the CSU Board of Trustees unanimously voted to honor the academic intentions of these students by awarding them Special Honorary Bachelor of Humane Letters degrees. "The internment of Japanese-Americans and Japanese immigrants during World War II represents the worst of a nation driven by fear and prejudice," California State University Chancellor Charles B. Reed said in a statement. "By issuing honorary degrees, we hope to achieve a small right in the face of such grave wrongs."
To assist in the search for former students, the CSU has established a dedicated phone number and email address: (562) 951-4723 and nisei@calstate.edu. Learn more about the Nisei project.